What is ReadingWise Comprehension?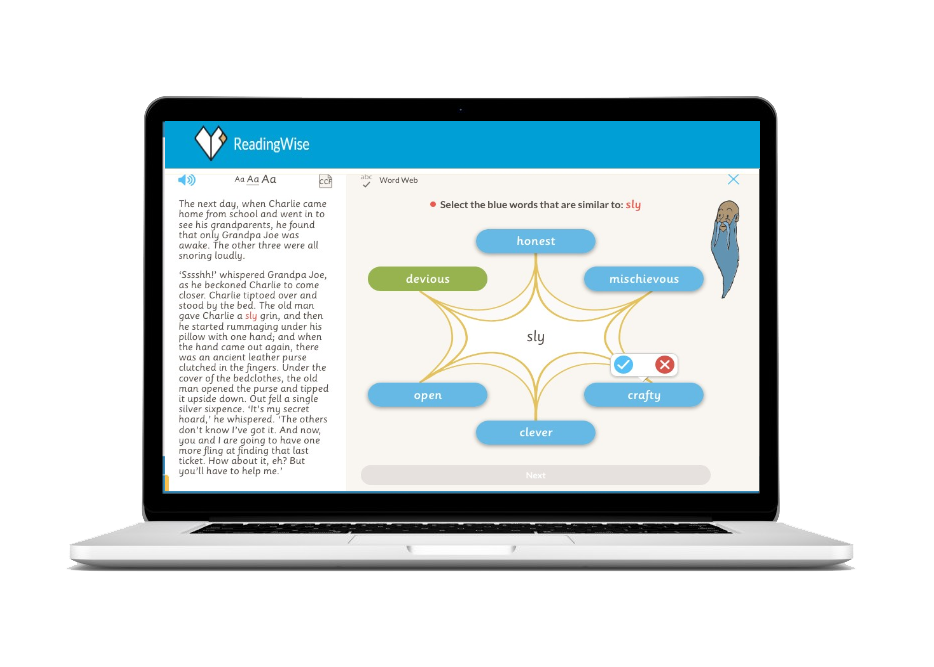 ReadingWise Comprehension is a powerful, engaging and fun literacy intervention module to develop the quest for meaning behind a narrative. It's content, structure and design deliver age appropriate sessions for Primary and Secondary schools Years 5-9.
Struggling comprehenders work in groups of 10 with 1 staff member (normally a TA) supervising. There are 20 sessions. Each session is 45 minutes. We recommend 2 sessions per week minimum. So that's a 10 week programme.
"We have seen it as being a highly effective intervention that offers personalised learning to large numbers of children and has a measurable impact in a short amount of time."
Hear more from Horfield Primary, Bristol >
How it works:
In a nut shell, Comprehension uses 3 main components (mega-skills & mini-skills, classroom discussion and a gripping adventure!) to engage learners and build their skills and confidence.
Learners work independently on computers (or iPads) for 20 minutes. They practice the mega skills. They learn strategies. They progress through the adventure narrative. Then the group comes together to discuss the new chapter. This is an open discussion, our training prepares your staff for this. We like learners to be really vocal, and the staff to be much quieter! We provide lesson plans for every session.
Evidence

According to the Education Endowment Foundation toolkit: "On average, reading comprehension approaches deliver an additional six months' progress. Successful reading comprehension approaches allow activities to be carefully tailored to pupils' reading capabilities, and involve activities and texts that provide an effective, but not overwhelming, challenge."
The evidence is secure. The EEF states: "There is extensive evidence in this area from a range of studies over the last 30 years."
The Comprehension Strategies
1. Mega-Skills and Mini-Skills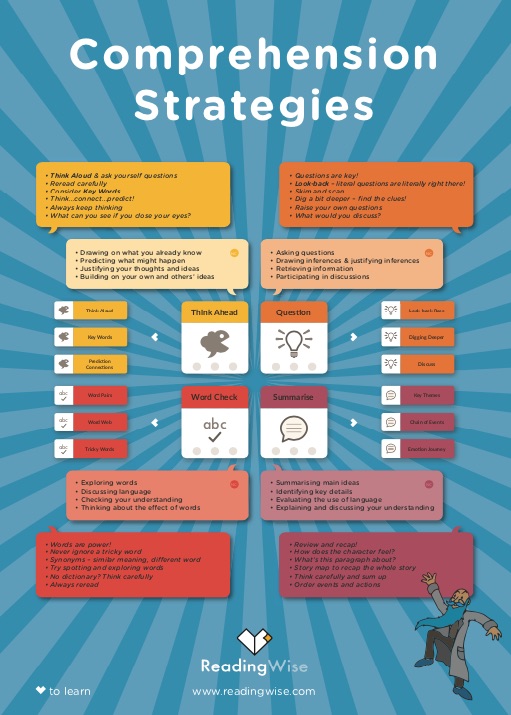 Evidence points to learning strategies to improve comprehension like questioning and thinking ahead. At ReadingWise we call these strategies mega-skills and there are four mega-skills in the Comprehension programme. Each mega-skill has 3 mini-skills. Here they are:
Think Ahead: Think Aloud; Key Words; Prediction Connections
Question: Look-back Race; Digging Deeper; Discuss
Word Check: Tricky Words; Word Web; Word Pairs
Summarise: Emotion Journey; Key Themes; Chain of Events
We have developed a bright and engaging classroom poster to reinforce the key comprehension strategies.
Find out more and order your poster.
2. Discussion
Discussion is important. Each session has time for discussion, where learners discuss the story and the skills providing a blend of independent work and structured collaborative learning.
3. The adventure narrative to drive engagement
Engagement is important. We've looked at what your learners are reading and have written a compelling story to hook them. This story is called The Red Stone of Calcutta. It creates a thread through the programme. Step-by-step, learners uncover new characters and new twists to the plot. They can't wait for the next session!
The Red Stone of Calcutta is presented online with rich audio support. Learners can listen to the story, recap passages, and pick out words and phrases. They can do this independently.
ReadingWise interactive technology
Here's a taster of how the Comprehension module's mega-skills, mini-skills and narrative are brought together in our interactive technology:
The skills are colour coded throughout...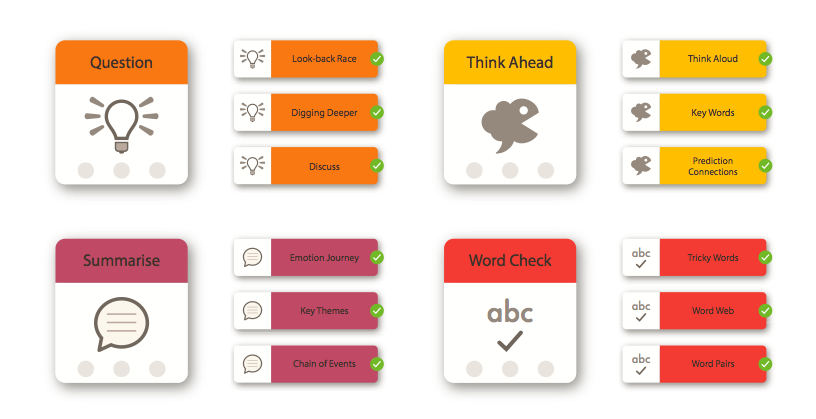 The interactive comprehension activities work through the skills...
These examples are from Roald Dahl's The Twits - one of the books from the ReadingWise Learners Library - Click on the buttons below to view each comprehension 'mini-skill'.
The introduction to the Red Stone of Calcutta and it's characters...
Training
As part of the Comprehension module, we deliver an in-house*, 2-hour training session for your staff. These are great sessions for schools interested in training their staff (in particular TAs) in effecive comprehension. Best to have your literacy coordinator and TAs there. An SLT member would be great too.
*Training can also be delivered effectively online if in-house training is not possible
Tell me more?
Here's the next steps to implementing ReadingWise and supporting struggling learners at your school.
Arrange your 20-minute demo (delivered over the phone).
Request a quote
Request a 14 day trail (FREE).
Reference school - Watch feedback from a school already using Readingwise Comprehension
What's included in ReadingWise Comprehension?
The cost includes:
2-hour staff training in comprehension strategies
Full access to the ReadingWise online and offline comprehension materials
Learner and staff certificates
Classroom posters to anchor the mega-skills in your school
What happens after the 10 week programme?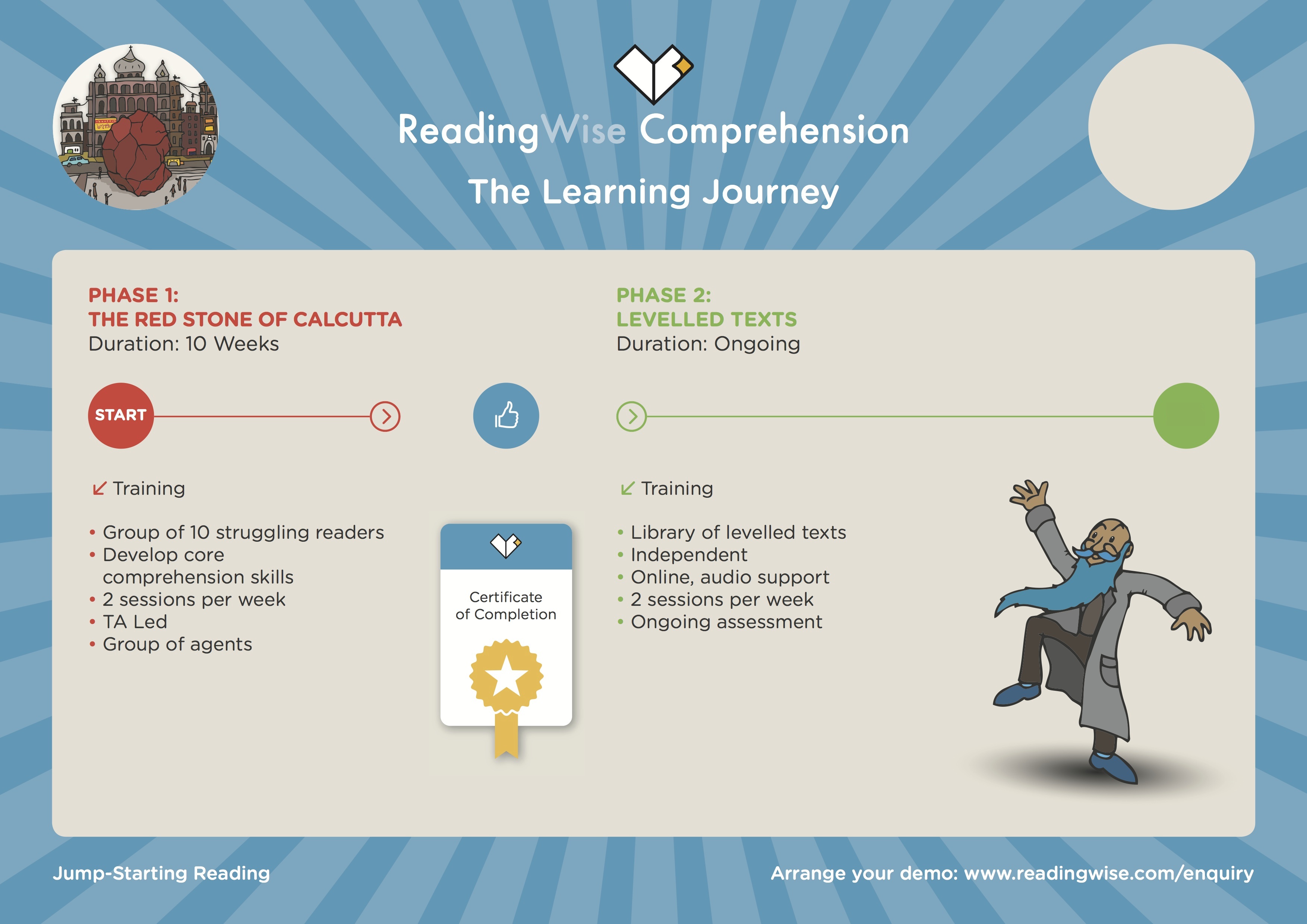 Once pupils have completed the Red Stone of Calcutta, you can introduce them to the ReadingWise Learners Library. Pupils will also put their Mega-Skills to the test by completing a series of SATs style tests.
We work with hundreds of schools and several thousand learners across the UK. If you would like to explore how ReadingWise can transform reading engagement in your school, please click the orange button below and book an over the phone demo. It's free, on your terms and we're really friendly and helpful.