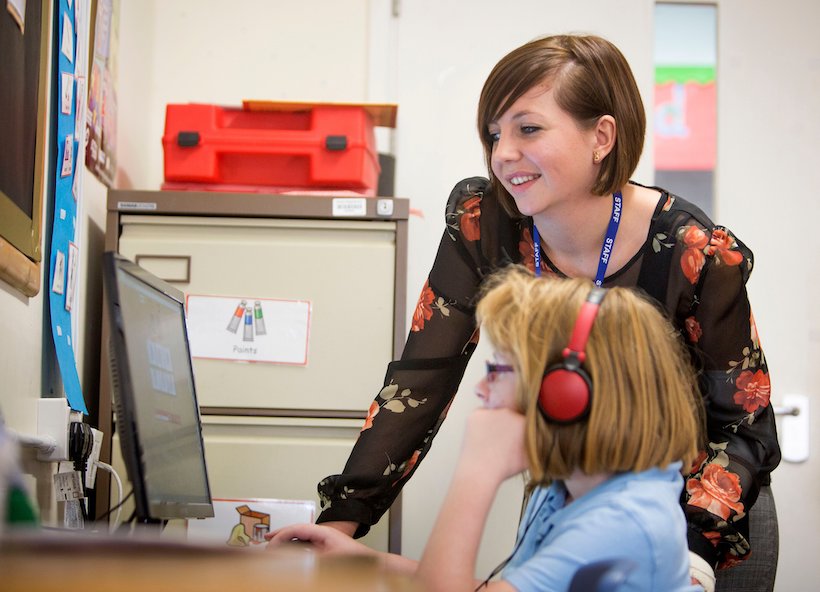 "ReadingWise is not only a fantastic intervention for pupils across South Ayrshire's 52 schools, but brilliant for our teaching and support staff too."
Empowering school assistants
One of the many great things about ReadingWise is that it doesn't take a teacher to run the programmes – and that's important because it frees up teachers to do various other things. This could be working within another group, supporting the kids who are in the middle, or stretching the kids who are up at the top of the class. What this also does is empowers the school assistants to run the programmes and almost be an agent of change in a child's life.
School assistants wear a lot of hats – supervising lunchtime breaks, providing first aid, preparing for a class ahead of time. ReadingWise helped and allowed us to change the focus for that group of staff. In one of our schools, with an amazing support team, we had one school assistant who wanted to take ReadingWise on. I was at the school one day and saw her in the classroom. I didn't really know what she was doing – she was surrounded by all these bits of paper! I thought maybe she's doing a task for a teacher.
I went in to talk to her as I wanted to find out how things were going in the school; I asked what she was doing. She told me she was looking at all the reports from the ReadingWise Decoding programme for the group she was working with. She showed me the data from the 15 kids in the group – baseline assessments, data coming from the module, other work from class. She was reviewing the improvements the group had made and taken back into class, and then marrying up the baseline measurement, the intervention and the outcome.
ReadingWise's method isn't overly simplified – but anyone can pick it up. If you follow the process of baseline assessment, intervention and then reassessment this will lead to an improvement for your learners. The fact that school assistants can manage this process really changes their focus; they then become learning assistants as opposed to general school assistants. This empowerment leads to them being much happier at work – and empowerment can change a culture. Additionally, their contribution to the school becomes more meaningful given they're creating a positive impact on children that could effectively last for the rest of their lives.
Empowering school children to learn
It would be remiss of me not to note the empowerment I see in the children too – irrespective of where they are in their reading journey, they gain a sense of independence towards learning. The ReadingWise programmes motivate them. The programmes provide immediate affirmation and feedback to the kids on the tasks they complete. This in turn empowers them, and as a reader they gain some independence, even though their skills are not as strong as they would want them to be, or we would want to be – it's a journey and children learn at different paces.
What I then recognised very quickly, is if you can give children independence in a task, that then subsequently transfers into boosting their self-esteem. So even though they may be early on in their learning journey, they will make improvements and see their efforts positively changing the data within the programmes – we share it with them, so they understand it. We then see them back in class, tackling tasks as a result of undertaking the programmes, more confident than before in their approach to the rest of their learning.
It's because of this, and how empowered our school assistants are to run with the programmes, that demonstrates why ReadingWise really is worth using.
---
We thank Ian for sharing this insight, his blogpost demonstrating how ReadingWise is making a difference to children's lives in South Ayrshire, not just their literacy development, and his reflective account of how South Ayrshire Council started their journey with our programmes.
We invite other authorities to contact our Community team to see ReadingWise in action – we can organise a 15-20-minute run through of the programmes with one of our team.