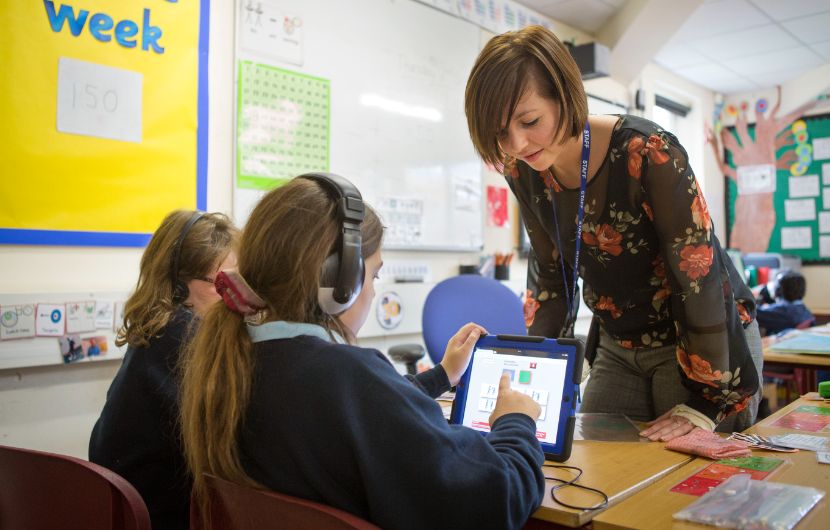 My role within South Ayrshire Council is that of an Inclusion Coordinator. One of my primary duties is to support schools in breaking down barriers to learning, and to look at innovative new practices and pedagogy that will help us with that process. I work to keep children in mainstream schools and support those in special schools to ensure everyone can access the learning they need.
I moved into the Inclusion team following a tenure teaching PE. Early on I recognised the need to gain a greater understanding of literacy practices and associated problems – teacher training didn't really cover the subject in much length nor did my previous post.
By pure fortune one day somebody left a leaflet on my desk for an Improving Literacy in Schools conference in Glasgow. I thought to myself it's only 40 minutes up the road, I'm going to go along.
Improving literacy in schools
ReadingWise was at the conference, speaking as part of the main programme. I attended their session and what struck me most about it was that a teacher had come to co-present with Jamie Fries, CEO of ReadingWise; she was from Forrester High School, Edinburgh. I thought if the teacher has taken time out from her duties - it's not easy to get teachers out of school - then this is something worth listening to.
I could see the teacher had a real confidence in what she was saying and what she was describing. It was really apparent that she was speaking from a very good experience – she gave us the facts, the data and the benefit of her time.
She was very clear, telling us what ReadingWise could do for learners. I thought if the data is correct, because the numbers are mind blowing, the process control sound and the learner feedback as positive as it appears, then I may have stumbled across something worthwhile.
There was a coffee break after the session, so I followed up with the ReadingWise team – they were brilliant. They explained more about the innovative techniques used and the algorithms that adapt to each learner's ability, driving the right content at the right time to optimise learning and development through the programmes.
The conversation really lifted me – I remember thinking there is a real opportunity here.
Convening a team of literacy experts
The day following the conference I relayed the conversation I'd had with ReadingWise to my manager – a literacy expert and an absolute guru on all things reading and writing. I showed him my notes from the session; I had taken more notes than I possibly had done at any conference. He was suitably impressed and based on the data he saw he wanted to find out more about what was possible.
From here, he convened a team of literacy experts from across the council in South Ayrshire: members from our educational psychology team, some teachers, some senior leaders. We met and discussed what we were presented with – the data, the facts, the real-life case study I heard first-hand at the Glasgow conference.
We met again with the ReadingWise team and drilled down into the technology, the benefits to our learners, what issues may arise when using the programmes etc. The ReadingWise team met our concerns head on and provided the answers to our questions. At which point we decided to run a trial – a five-school pilot of ReadingWise Decoding.
Piloting ReadingWise across South Ayrshire
The pilot was the next part of the journey. I worked closely with Caroline Shepherd, Community Manager, on how the pilot was going to work. We overcame a few ICT issues, minimal, I add. Thereafter, the effect was immediate. After setting pupils up and reviewing their initial progress I remember at the time reviewing a particular learner's progress and thinking that is a huge improvement this kid has made.
The success of the pilot mapped out the next part of the journey – we rolled it out to all 52 schools.
We followed the model from the pilot for the rollout – the same way the teacher from Forrester High School did from the conference session I attended. We ensured every machine in every single school supplied access to ReadingWise. We also provided a small guide for schools on how to use it but looking back, we needn't have done it because the simplicity of the programme allows teachers, school assistants and learners to access the platform in a straightforward way.
Quality assurance across all 52 schools
Part of my role is to explore quality assurance and to see what's going on in our schools – source good practice. What was to become very evident very quickly is that schools really switched on to ReadingWise because of its simplicity. The children would come in and get started – like the pilot, an immediacy. I remember thinking early on, with the results we were seeing and improvements the children were making, this is something special.

Seven years on and the children who use ReadingWise now are just as motivated to use it; they gain confidence every time. This very straightforward, very rewarding programme has a massive impact for our learners when it comes to literacy and learning to read, to decode, and to understand in terms of comprehension.

Almost every single child that goes through the ReadingWise programme makes an improvement. ReadingWise is a key partner for us in what we're trying to do here in South Ayrshire – close the attainment gap and support the most vulnerable people and families.

__

We thank Ian for his insight and invite other authorities to get in touch - if you would like to see Decoding, Comprehension or Vocab in action, please drop us a line and we can organise a 15-20-minute run through of the programme with one of our team.