Introducing Vocab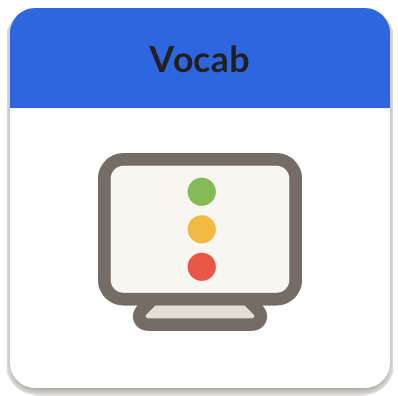 For the last three years we've been considering the challenge of delivering effective vocabulary resources through an online resource. The biggest challenge, in our minds, is how to honour the critical importance of context when teaching new words - while delivering through an online programme. And we think we've cracked it.
After much thought and careful consideration, we concluded that teachers remain best placed to deliver context. An online programme like ReadingWise offers a powerful opportunity to reinforce and consolidate the words being brought to life in the classroom.
After piloting the vocab programme with 32 schools (you can download the report below), we carefully took on feedback from literacy leads and from learners. You will benefit from their expertise, as they have contributed to what is a very special vocabulary programme.
What does this page tell me?
Who is it for?
How does it work?
Can I view progress?
Can I customise content?
How often should my class use Vocab?
How about accessibility?
How much does Vocab cost?
Who is it for?
Vocab is for learners aged 6 - 16, for primaries and secondaries. As you can decide on your word lists, you can be confident that your learners are working on the best vocabulary for them - from tier 2 words to Of Mice and Men vocabulary.
How does it work?
ReadingWise Vocab aims to reinforce words that you are bringing to life in the classroom. You are providing context - we are helping embed the words in learners' long-term memories.
Our system carefully scaffolds your word lists and delivers sequenced, spaced learning to interrupt the forgetting curve. The system knows when your learners have mastered a word and moves it into a revision cycle.
Your learners will interact with word classes, definitions, example sentences, synonyms, antonyms and images. As their confidence increases, the scaffolding decreases. Words have full audio support.
Can I view progress?
With a pre and post quiz (30 words from the word list you've selected) it is simple to gauge impact and progress. There is also full visiblity of learner activity in the comprehensive dashboard, including time spent, login diary, and accuracy rates. You can also choose to quiz your learners at any time.
I absolutely love the new quiz elements within Vocab! The feedback I have had on this new programme is excellent. Children whose motivation was poor now are loving engaging with the new progress bars - it is helping them to self-assess.
Can I customise content?
Yes you can. The key to our programme is working as closely as possible with what's going on in the classroom. So if you're looking at Ancient Greece then add your target vocabulary to the ReadingWise Vocab programme. You will discuss 'democracy' or 'civilisation' in class - and Vocab will reinforce exactly those words.
Along with selecting your own word lists, we have also pre-prepared a large tier-2 word list and Coxhead's Academic Words list. You can view this list here.
How often should my class use Vocab?
As guidance, 10 minutes 3-5 times per week works well. This can be at home, at school, or a mix of both. All evidence suggests shorter, more regular sessions are better than longer, irregular sessions.
How about accessibility?
As with all of our modules, we include the dyslexia-friendly font as an option. The audio support for the words you are targeting also supports your learners.
How much does Vocab cost?
This depends on your school size. Prices are from £360 per year.