What is 'Prediction Connections'?
Our quirky guide The Master introduces this mini-skill thus: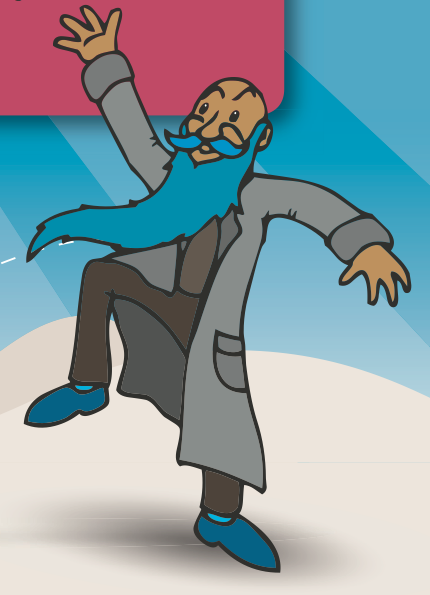 "A perfect way to help us really understand what we read is to try and make the text connect to us – to our own experiences and our own thoughts."
So, prediction connections aims to support learners in developing their capacity to apply their prior learning to any text they are reading. Once they've been through the programme, they should be closer to drawing on this strategy independent of support.
Prediction Connections and Schema Theory
Connecting a piece of writing to our own experience is powerful. It brings it to life, allowing us to empathise with the story, characters and their emotions. We may then begin to predict the likely actions of characters, how they might behave in different situations, and how they interrelate.
Schema Theory
Schema theory is a way of describing how we mentally organise knowledge (prior learning). When we interact with 'things' - stories, events and so on - we 'filter' what we encounter through our existing schemas.
This video offers an interesting way of explaining schema theory. The characters read a passage, warning you that you will struggle to understand it. If, however, 7 simple words were given to you before you heard the passage, it would be totally clear.
What did you think of that? And how did you get on with the contrasting accents?
Schema theory is a big subject and we're not going to go deep into it here. If you'd like to read more, this page on Piaget offers some interesting insight.
Prediction Connections
The prediction connections mini-skill aims to explicitly teach learners to proactively access their schema. The programme does this by asking learners specific questions about the extract they are working on. This is not an exercise of 'right or wrong', but rather one of trying to jump-start the process of reflection and connection to one's own experience.
An Example from the Red Stone of Calcutta
The following image is an extract from The Red Stone of Calcutta. Learners would work through a series of questions and select from suggested answers. Guidance and purpose is provided via The Master, the aim is for learners to then be able to apply the prediction connections process whenever they encounter a text. In later episodes, once they are trained, learners are free to select this mini-skill from their bank of 12.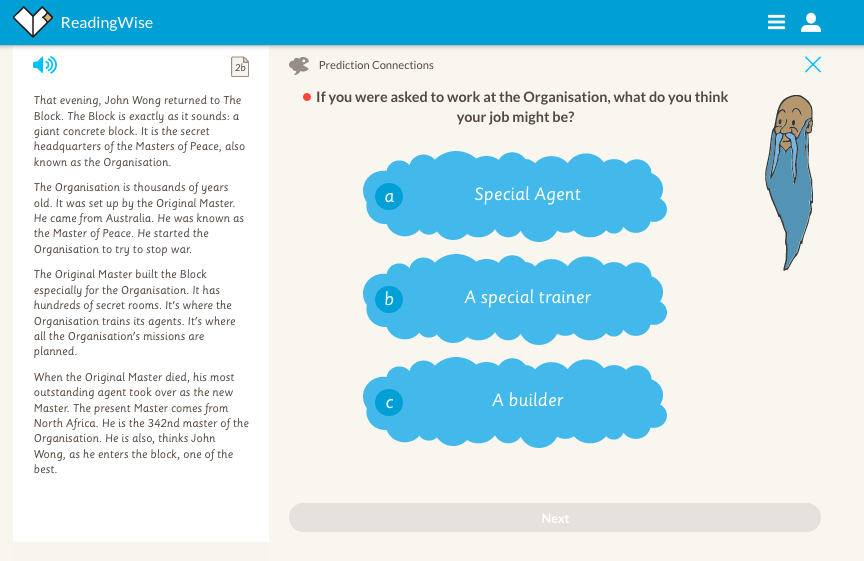 What do you think?
What is your experience of using prediction connections? Are they something you've used in your classroom, and were you familiar with schema theory? Let us know your thoughts below.
The ReadingWise Demo
And finally - if you'd like to explore using ReadingWise to empower your struggling comprehenders, you might like to arrange a demo with our friendly team. Demos are quick, informative and fit with your schedule. So far we've reached many thousands of learners and would love to explore working with you if it might help more children read.