Explicit teaching of key comprehension strategies
Learning to comprehend is not reading a text and answering questions. Evidence points to learning strategies to improve comprehension. Strategies like questioning and thinking ahead. In ReadingWise Comprehension we call strategies mega-skills. There are four mega-skills in the programme. Discussion is also important. Each session has space for discussion, where learners discuss the story and the skills. Here are the mega-skills: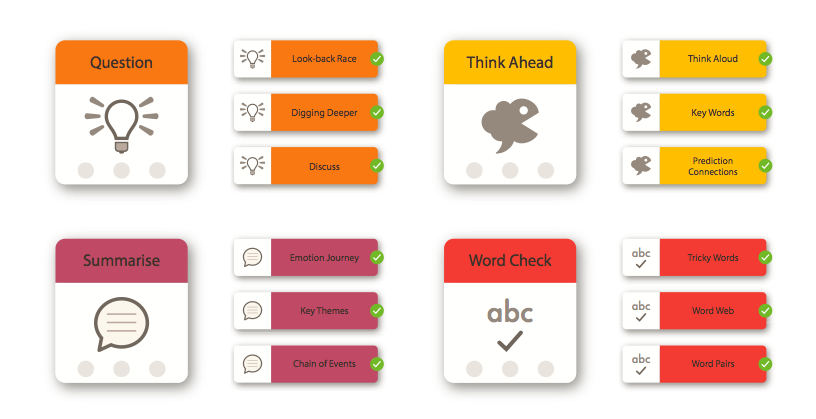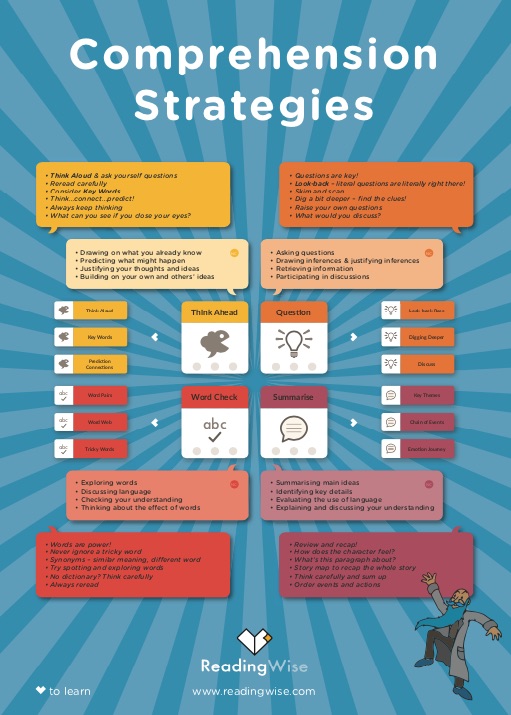 We have developed a bright and engaging classroom poster to reinforce key comprehension strategies.
Grab your free comprehension skills poster
What do the comprehension activities look like?
Below you'll find an image of each of the 12 comprehension 'mini-skills'.
Click on the buttons below to view each comprehension 'mini-skill'.
Learners are gripped! Narrative drives engagement.
Engagement is important. We've looked at what your learners are reading and have written a compelling story to hook them. This story is called The Red Stone of Calcutta. It creates a thread through the programme. Step-by-step, learners uncover new characters and new twists to the plot. They can't wait for the next session!
The Red Stone of Calcutta is presented online with rich audio support. Learners can listen to the story, recap passages, and pick out words and phrases. They can do this independently.

Watch the introduction below!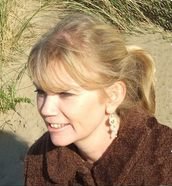 Who designed ReadingWise Comprehension?
Judy Clark is at the heart of our team of 10. Judy is a consultant to the National Literacy Trust and Primary English Lecturer in the University of St John and St Mark. Judy knows her stuff, and while we've spent a year getting this right, Judy has spent decades deep in comprehension best practice.
How does the programme work?
Training
We deliver an in-house*, 2-hour training session for your staff. Best to have your literacy coordinator and TAs there. An SLT member would be great too.
*Training can also be delivered effectively online if in-house training is not possible
Groups of 10
Struggling comprehenders work in groups of 10. There is 1 staff member (normally a TA) supervising.
20 sessions
There are 20 sessions. Each session is 45 minutes. We recommend 2 sessions per week minimum. So that's a 10 week programme.
Blend of independent work and group work
Learners work independently on computers (or iPads!) for 20 minutes. They practice the mega skills. They learn strategies.
Then the group comes together to discuss the new chapter. They may also discuss the mega-skills. This is an open discussion, our training prepares your staff for this. We like our learners to be really vocal, and the staff to be much quieter! We provide lesson plans for every session.
Who is ReadingWise Comprehension for?
Schools interested in training their staff (in particular TAs) in effective comprehension
Learners in Years 5, 6 and 7 who have been identified as struggling with comprehension
I'm in! How do I sign up?
We look forward to working with you! Please follow the steps below.
Arrange your 20-minute demo (delivered over the phone). If we can help your pupils, then...
Book a 2 hour training session for your staff
Timetable 20 x 45minute sessions for a group of 10.
What is the cost for ReadingWise comprehension?
The cost is dependant on your school size. Either make a pricing request here or we'll cover this during your demo. The cost includes:
2-hour staff training in comprehension strategies
Full access to the ReadingWise comprehension materials
Learner and staff certificates
Classroom posters to anchor the mega-skills in your school
What happens after the Red Stone of Calcutta?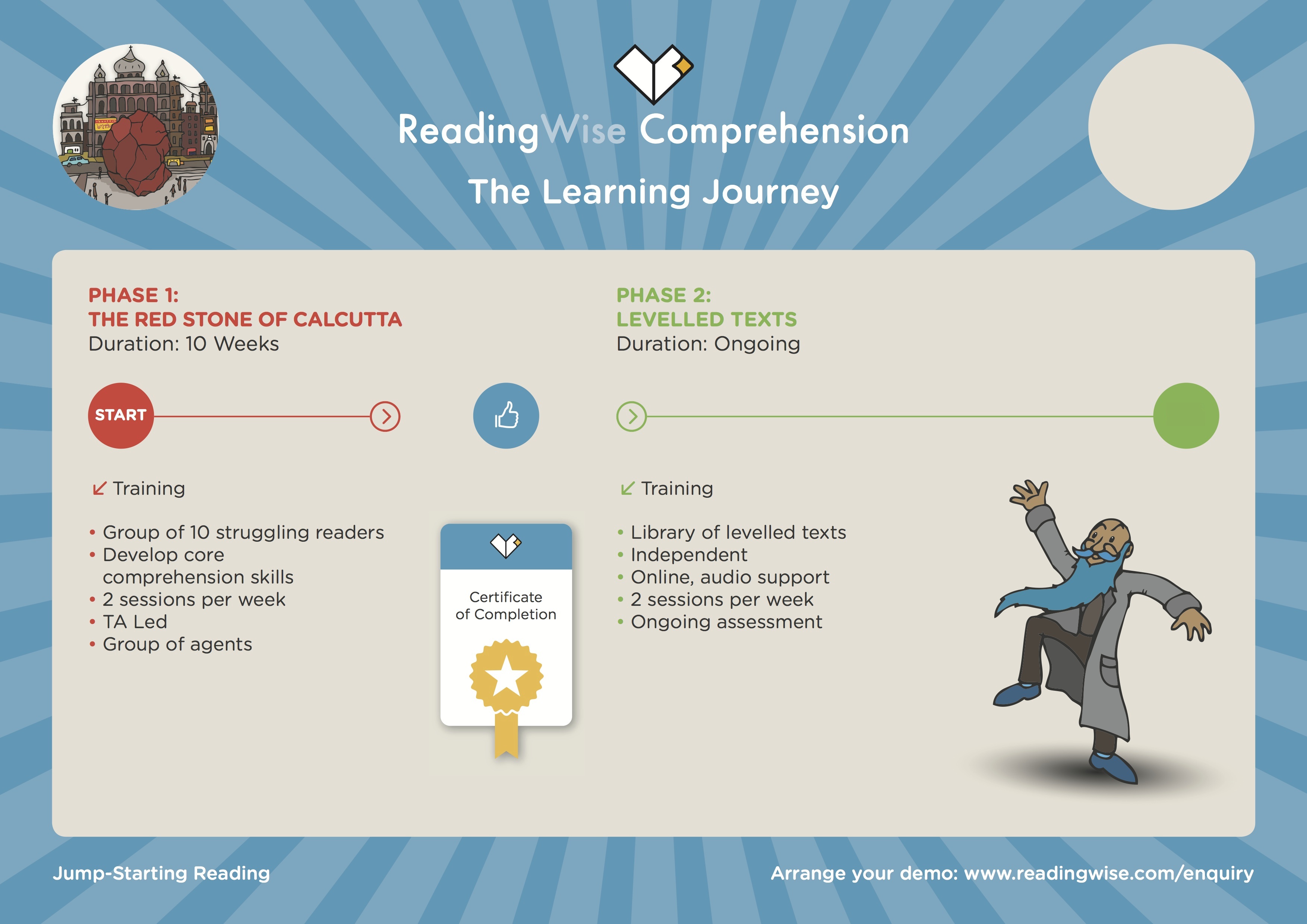 Once pupils have completed the Red Stone of Calcutta, they will have access to a broad range of age-appropriate levelled texts. Using the same engaging format, pupils will carry on building their knowledge by applying the Mega-Skill comprehension strategies to these new texts. The texts include fiction and non-fiction, and range in topic from 'A Midsummer Night's Dream' to 'Inventing the Telephone'. Pupils will also put their Mega-Skills to the test by completing a series of SATs style tests.
If you have any questions please call us on 01273 843 927 anytime, or email us