Marigolds by Eugenia Collier - Vocabulary
"Marigolds" is a poignant and thought-provoking short story written by Eugenia Collier. Originally published in 1969, it explores the themes of innocence (in particular the loss of innocence), and the harsh realities of life growing up in a poor, rural town during the Great Depression.
The story is narrated by Lizabeth, a young African American girl, who reflects on her childhood in a bleak and impoverished community. She describes her complex feelings towards Miss Lottie, an elderly woman in the neighbourhood who cultivates a beautiful patch of marigolds amidst the squalor of their surroundings. Miss Lottie's marigolds represent a symbol of hope and beauty in a world filled with despair and hardship.
However, the story takes a dramatic turn when Lizabeth and her friends, driven by frustration and anger at their bleak lives, destroy the marigolds in an impulsive act of rebellion. This act haunts Lizabeth, and she subsequently grapples with a deep sense of guilt and remorse.
Through a rich narrative, Collier explores the complexities of growing up and finding ones sense of self. Lizabeth's actions mark her transition from childhood to adolescence; they symbolise the moment when she realises that beauty and hope can be fleeting in a world filled with deprivation and cruelty. The marigolds, once a simple sign of beauty and optimism, become a stark reminder of how life can be painful and confusing.
"Marigolds" is a masterfully crafted story that delves into the subtleties of human, particularly adolescent, emotions. Collier's storytelling skilfully captures the intensity of a Lizabeth's 'coming of age' moment, making it a particularly powerful and thought-provoking piece of literature for students who are themselves in their teenage years.
Language in "Marigolds"
Eugenia Collier's use of language in "Marigolds" is evocative and emotionally charged. The narrative is rich in vivid descriptions and symbolism. Her choice of words captures the stark contrast between the impoverished environment that Lizbeth has grown up in (she uses words like squalor, ramshackle and barron - all in the word list!), and the vibrant marigolds that stand as a beacon of hope.
The language in the story also conveys the protagonist's inner turmoil. Lizabeth's internal monologue reflects the confusion and turmoil of adolescence as she grapples with her emotions. Collier's descriptive and metaphorical language aids in highlighting the emotional depth of the characters and the transformative nature of the story. There is a lot of discussion about how and whether innocence and compassion (arguably the most significant word in the story) can co-exist.
Through her skilful use of language, Collier creates a narrative that resonates with readers on both intellectual and emotional levels, making "Marigolds" an ideal work of short fiction for students in both KS3 and KS4. We hope that our word lists can add to your students' understanding and enjoyment of the text. You can also access an editable list here.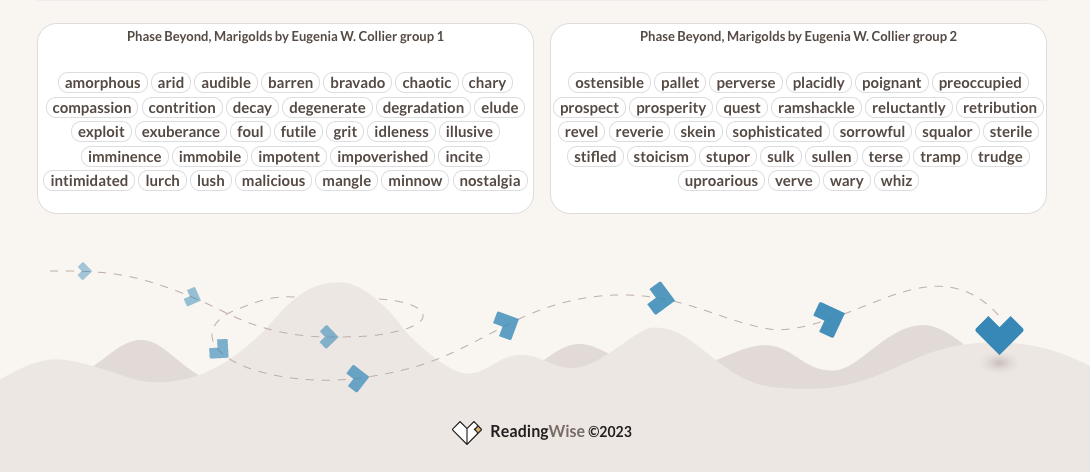 Vocabulary Cards
As well as word lists, we also offer free use of our vocabulary cards, which can be downloaded as a PDF for use in class. Complete a short form and we will email you the cards straight away.
Vocabulary cards include: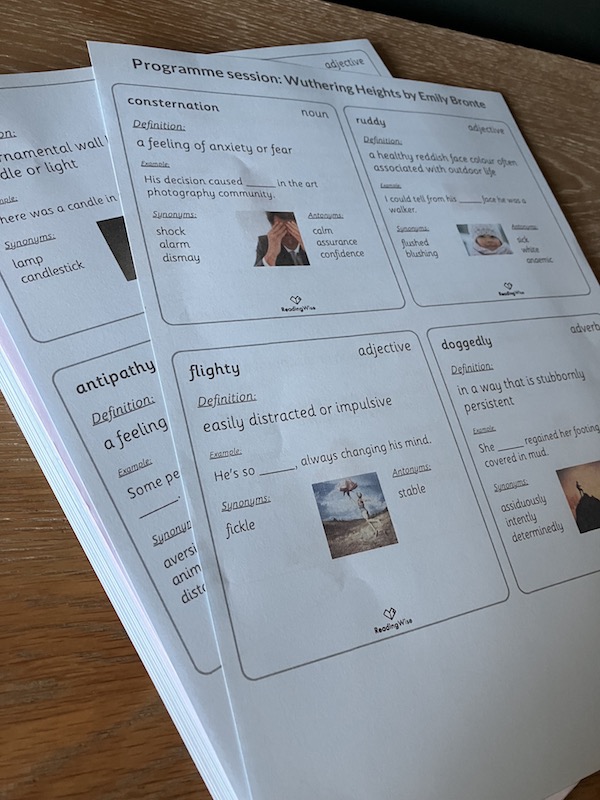 Definition;
Word type;
Synonyms and antonyms;
Example sentence;
Image.
Check out our weekly lists every Wednesday! Click here for last week's curation...
Find out more about our Vocab module. It's simple, online, and each learner has their own username and password. You (the teacher) allocate the word list you'd like your class to work on... and away they go!