Jamie reading with school friends
What kind of books did the team like to read as children?
Emily was into fantasy, stepping into the worlds of The Faraway Tree, Narnia, Harry Potter and His Dark Materials.
Meanwhile Jamie was into mystery books such as Loch Ness Monster and The Mary Celeste, and enjoyed Watership Down and the CS Lewis books. He enjoyed the travel, adventure, mystery of Willard Price's adventure series, and 'The Three Investigators' series. And he loved Tintin!
Jo enjoyed all sorts but had a particular soft spot for Enid Blyton: The Famous Five, Secret Seven, The Five Find-Outers, The Adventurous Four...She also enjoyed Roald Dahl books.
It took Caroline a long time to learn to read, she was around 8 or 9 when she started. She wonders if now she would have been screened for dyslexia, but at the time 'slow readers' were treated differently.
When she did start reading Caroline was another Secret Seven and Famous Five fan! She enjoyed the adventures and never ending summer holidays. On reflection, she thinks the repetition and simplicity of the texts alongside the alternative reality opened the door to reading for pleasure.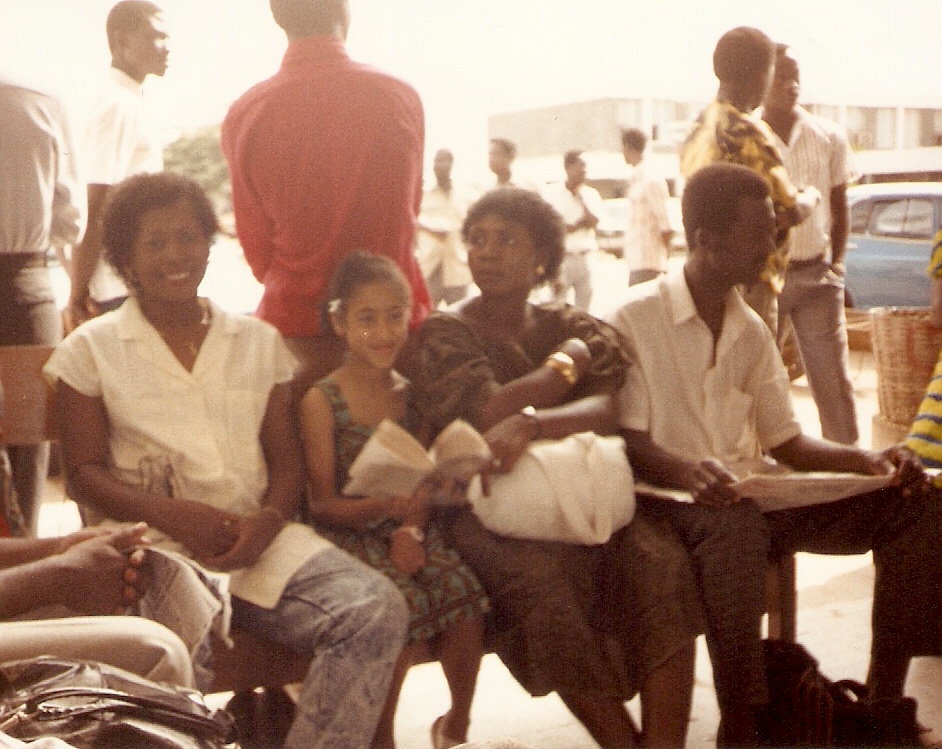 Jo - cosy at a bus stop in Ghana with a book for company!
Which were the team's favourite books?
Emily remembers her Dad reading one of the Narnia books with her, which led her to read The Lion the Witch and the Wardrobe by herself. It was the first time she had that "I can't put this book down!" feeling. After that point she was totally hooked on books.
When reading The Lion the Witch and the Wardrobe Emily identified with Lucy; going into the wardrobe and meeting Mr Tumnus felt so real to her. She remembers experiencing a racing heart and sweaty palms when reading the book, brought on by reading something so intriguing!
She can still remember how the description of Edmund eating the Turkish Delight made her feel - it takes her straight back to laying on her bedroom floor and reading about it in the story.
Jamie particularly loved a book called The House that Sailed Away. The idea that your home could, quite suddenly, transport you off to unknown adventures, was really exciting to him.
Jo loved all the Enid Blyton Mallory Towers and St Clare's books. Picking a compendium of St Clare's books from her local library at the start of the summer holidays is a favourite memory!
She enjoyed reading about what it's like to live in a boarding school, with tuck boxes and pocket money. She was fascinated by the rules, the events, the friendships, the naughtiness, the fun. And the food! She relished entering their world and getting lost in it.
A book that particularly stands out for Caroline is Backwater War by Penny Woodford, which was about the experience of a girl when the Channel Islands were occupied by the Nazis in the Second World War. It was an interesting insight into how suddenly and radically life can be turned upside down.
Why was reading important to the team as children?
Emily didn't have a TV in her childhood home so being read to and reading forms a big part of her childhood memories. She remembers the wonder of experiencing escapism and detachment from reality.
For Jamie reading was also an integral part of family life. His mum was an editor and books were everywhere in the house; his dad believes a house is essentially a place to store books! So books for him had something to do with family identity and belonging. The visceral enjoyment of books came from adventure and excitement - danger, mystery and puzzles.
"I reread books I find help me understand the world better. I read to better understand reading and to better understand children with specific learning difficulties."
As a child (and now!) Jo loved the fact that there were all these different worlds you could explore, and get lost in, at your fingertips. She'd read any moment she could, whilst eating breakfast, in the car on the way to the supermarket with her family…
"Reading is still my little escape. Whenever I want I can fall into another world. I find even the thought of reading a book extremely comforting."
Caroline was also bought up in a home where books and reading were highly valued. She was encouraged to read and was read to as a child.
How do the team feel about reading as an adult?
Now Emily tends to read to learn rather than read to escape. She reads mainly non-fiction, with a particular taste for rather gruesome tales of human behaviour. She also loves to read about great human achievements, such as an account of Shackleton's Endurance.
"For me reading is just a small daily routine, there is a certain comfort that you only get from reading a few pages of a book before bed!"
Similarly Jamie's reading nowadays is most often centred on learning. He rereads books to help him understand the world better. He also reads to better understand reading and to better understand children with specific learning difficulties. Occasionally he treats himself and reads purely for pleasure.
Jo still reads to escape, to fall into another world. And she finds even the thought of reading a book extremely comforting! She also reads to learn a lot now. Reading non-fiction to help make sense of the world and our behaviours, or open her mind to different concepts.
These days Caroline reads to open her mind to new ideas and new places and contexts but a favourite remains magical realism and particularly Like Water for Hot Chocolate by Laura Esquivel. Family, joy, tragedy and food intertwined seems a perfect combination.
What are your favourite children's books? Let us know any recommendations @ReadingWise
If you'd like to book a demo to find out more about ReadingWise's literacy interventions, you can sign up to a demo here