'Girl, Missing' by Sophie McKenzie - Vocabulary
"Girl Missing", by Sophie McKenzie, is a modern classic, and a gripping thriller for KS2 and KS3 readers. It follows the life-altering journey of Lauren Matthews, an adopted, teenage girl living in London. The story begins with Lauren's world being upended when she discovers an old newspaper cutting featuring a kidnapped child who bears a striking resemblance to her. This revelation shatters the perception of her own identity, and forces her to confront unsettling truths about her past.
Driven by a growing sense of unease and a desire for answers, Lauren embarks on a quest to uncover the mysteries surrounding her birth. Her journey takes her to the United States, where she finds a web of lies, secrets, and a powerful network involved in international child trafficking.
Throughout the novel, Lauren becomes deeply entangled in a maze of deceit and danger, forming unexpected alliances along the way; she encounters people who both help and hinder her quest for the truth. As the story unfolds, it explores the themes of identity, belonging, and the power of determination and resilience.
Lauren's resolve and courage in the face of overwhelming challenges make her a compelling protagonist. Her relentless pursuit of the truth showcases the additional themes of inner strength and self-discovery.
Language in "Girl Missing"
Sophie McKenzie employs a clear and accessible language style in "Girl, Missing," catering to its teen and young adult target audience. The narrative is driven by vivid descriptions and fast-paced dialogue, which keeps the story engaging and relatable.
The language of the book evolves as Lauren's character does. At the start of the story, she is a typical teenager with typical teenage concerns. However, as she delves deeper into her quest to unearth the truth about her past, her language and perspective grow in complexity. She becomes more reflective, demonstrating her evolving maturity.
The author uses emotive language to create a sense of suspense and tension throughout the novel. As Lauren's mystery progresses, the language reflects the growing stakes and danger she faces, keeping readers on the edge of their seats, with plenty of chapter-end cliff-hangers! It is not your classic, happy-ending story, but perfect for anyone who loves thrill and excitement. We hope our word list helps to bring your students' imagination to life. You can also access an editable list here.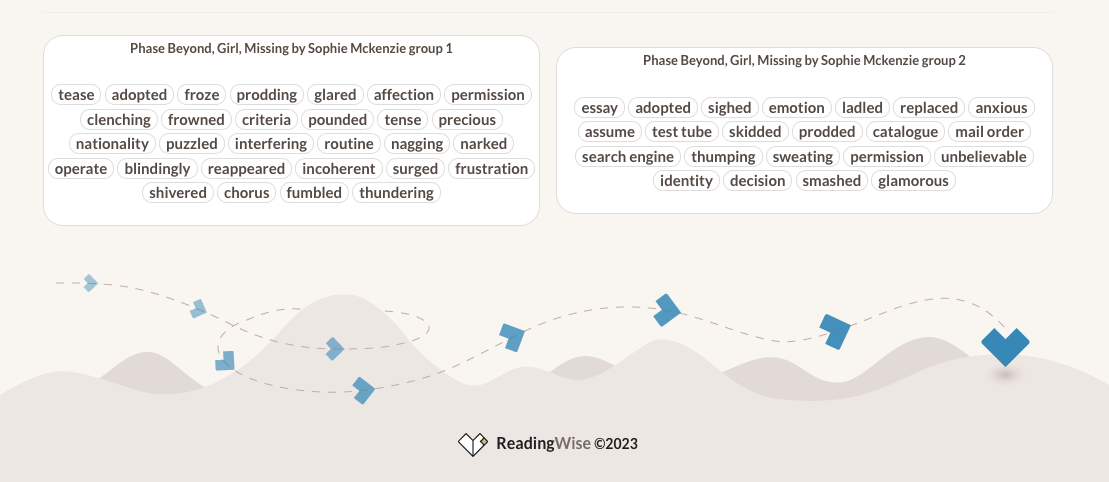 Vocabulary Cards
As well as word lists, we also offer free use of our vocabulary cards, which can be downloaded as a PDF for use in class. Complete a short form and we will email you the cards straight away.
Vocabulary cards include: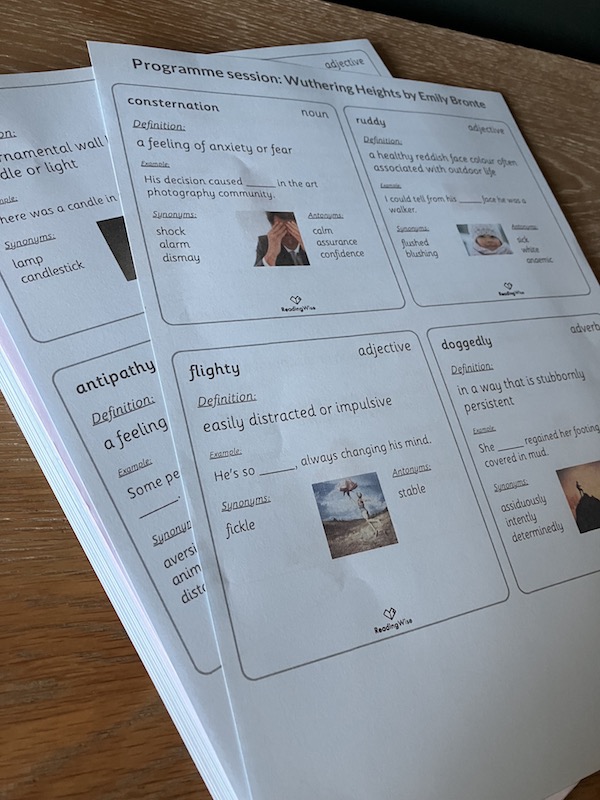 Definition;
Word type;
Synonyms and antonyms;
Example sentence;
Image.
Check out our weekly lists every Wednesday! Click here for last week's curation...
The Vocab Module - How it Works
The Vocab module is simple. It's online. Each learner has their own username and password. You (the teacher) allocate the word list you'd like your class to work on. And away they go!
Find out more about our Vocab module. It's simple, online, and each learner has their own username and password. You (the teacher) allocate the word list you'd like your class to work on... and away they go!