Vocabulary development is a crucial part of developing comprehension. The Word Web mini-skill is an excellent way to introduce words that learners might not have come across before, and extend their vocabulary.
What is a Word Web?
In this mini-skill learners are presented with a word taken from the chapter they have just read. They can have a think about what the word means, then decide if any of the six surrounding words in the word web have the same or similar meaning.
As our guide, the Master says: "First word – think about what it might mean. Click on any word you think might be the same. Get spotting those synonyms!"
How does it work?
In this example, the learners are invited to select words similar to the word 'gravely'.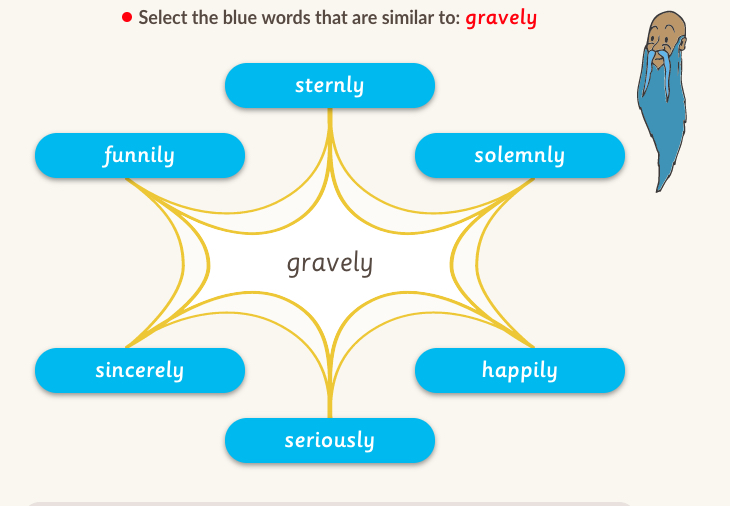 The learner can find the word where it is highlighted in the text and read it in context to try and create their own meaning.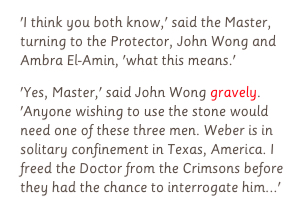 They can then look at the six other words in the word web and decide which are the same or similar in meaning to 'gravely'. If the learner is not familiar with the highlighted word and its meaning, the other words in the word web they may know or recognize, can help to make meaning. It's a great visual device to show how words are connected or related. It's also an excellent way in which to encourage the development of the learners' independence – they can try to work out the meaning for themselves.
Of the six words introduced in the word web, four will be similar or synonyms and two will be antonyms. Including antonyms is a great way for the learners to develop and extend their vocabulary, it's an ideal context in which to introduce new words. The selected words are useful words which can be taken on board and used by the learners in their writing straight away. The strategy will help learners in recognizing and developing the use of a wide range of vocabulary in their everyday reading and writing, and can be useful across different genres, and when reading different texts.
Why not use dictionaries and dictionary definitions?
Counter-intuitively, for struggling readers dictionaries and definitions are actually a poor way to develop vocabulary. We've written about it previously here.
What do you think?
We'd love to hear your thoughts about Word Web as a comprehension strategy, and ways that you've integrated this practice into your classroom. Have you seen anything special?
The ReadingWise Demo
Short, friendly and informative - you might like to arrange a demo with our team at a time to suit you.So far we've reached many thousands of learners and would love to explore working with you if it might help more children read.