It is important, when summarising a text, that learners can give a complete picture of what they have just read. According to the National Institute for Literacy in Put Reading First, Kindergarten Through Grade 3, Third Edition, "Summarizing requires students to determine what is important in what they are reading, to condense this information, and to put it into their own words."
If this is difficult for a learner, it can be tempting to describe the ending only, or parts of the text which particularly appealed to them. In this case, rather than trying to summarise the whole text all at once, learners can try to identify different parts of a story or different events. In doing so it will be easier for them to recall what has happened or to retell the story to someone else.
Sequencing is being able to retell events which have occurred, in the correct order, along with being able to identify components of the story, for example the beginning, middle and end. This skill is a key comprehension strategy.
What is Chain of Events?
The ReadingWise mini-skill Chain of Events helps learners with their summarisation and sequencing skills. Here is how our guide in The Red Stone of Calcutta, the Master, introduces Chain of Events: "Here are your events. I have muddled them up. Quickly reread the story first, to help you review and recap. Now, read and then click on each event and drag it into the right place to connect the chain of events correctly."
With this mini-skill key elements of the episode have been picked out, and summarised as a sentence, each appearing in a separate box. The learner needs to consider each sentence box one by one, pick out the key words and phrases to look out for, and scan the text to see where this event appears. It's a good opportunity to practise skimming and scanning skills here. The learner can then check if the event happened before or after the event in the previous box and move the boxes up or down accordingly, so that they appear in the correct order.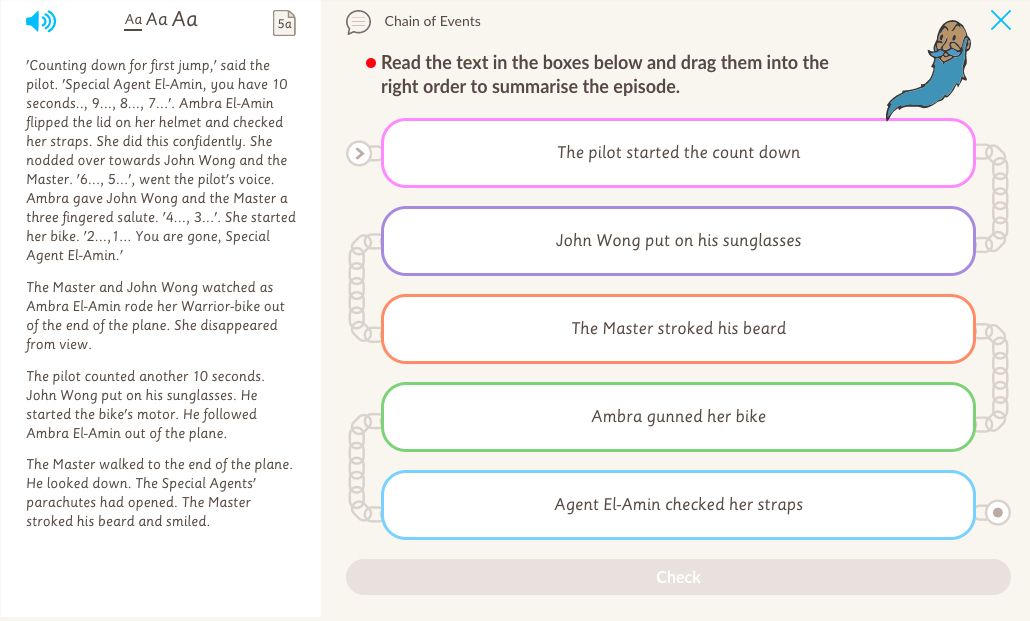 Once this has been completed the learner can then read through the reordered Chain of Events, double checking with the original text. They will end up with a good outline of what has happened in this episode. With this mini-skill learners are developing the ability to evaluate the whole text, and are working on memory skills at the same time.
This is the last in our series of blogposts relating to our mini-skill comprehension strategies. Although we have focussed on each strategy individually, it's important to remember that good readers draw on several different strategies to assist them in their reading. The idea behind our comprehension programme, The Red Stone of Calcutta, is that learners will develop all 12 comprehension strategies over a period of time. Once embedded they can then take the strategies with them, as a sort of toolkit, applying them whenever needed throughout their school day and on into their everyday lives.
"When your students find that using comprehension strategies can help them to learn, they are more likely to be motivated and involved actively in learning." - National Institute for Literacy, Put Reading First, Kindergarten Through Grade 3, Third Edition
What do you think?
We'd love to hear your thoughts about Chain of Events as a comprehension strategy, and ways that you've integrated this practice into your classroom. Have you seen anything special?
The ReadingWise Demo
Short, friendly and informative - you might like to arrange a demo with our team at a time to suit you.So far we've reached many thousands of learners and would love to explore working with you if it might help more children read.