So far in the Question mega-skill, we've looked at Look-back Race and Digging Deeper, two mini-skills that develop the capacity to answer and ask questions about texts. In this article, we'll look at the next skill - Discuss.
Research shows that discussing texts together is a successful vehicle for both engagement and ultimately comprehension. Engagement is an important factor when stimulating a reading for pleasure culture among our struggling readers. It can be enjoyable and motivating, and importantly allows learners to articulate their own response to a given text.
Why Discuss?
"How can we help readers to unpick, comprehend and of course enjoy what they read? The answer that emerges again and again is responding to texts through collaborative talk."

Talking Beyond the Page, 2009, Janet Evans
For our struggling readers, it is important to prompt discussion and to provide a structure for it. Their confidence may have been knocked in the past, we may be rebuilding self-esteem. There is no right or wrong, as each of us draws on our own 'map of the world' - our own schema. Valuing all input is essential, and providing an environment where learners who may be reticent to contribute feel empowered to bring their ideas to the group.
Discussion as part of ReadingWise Comprehension
"Approaches that use technology are most effective when technology is used as a medium to encourage collaborative work and interaction between pupils, rather than taking a direct teaching or tutoring."

Education Endowment Foundation
When we were developing the ReadingWise Comprehension module it was clear that a dicussion component was essential if we were to deliver the greatest impact possible. Every ReadingWise comprehension session includes a discussion 'gathering', where the learners and their supervisor go over their thoughts and opinions of the day's Red Stone of Calcutta episode. This is timed after their independent work where they read and interrogate the latest episode.
During the discussion, learners are carefully prompted to share their own ideas, to say what they liked, what they didn't like, to reflect as a group and to make meaning together. It helps to develop effective questioning. It's about bringing together a community of readers, and to build excitement and engagement in a story as they read through it.
The Discuss Mini-Skill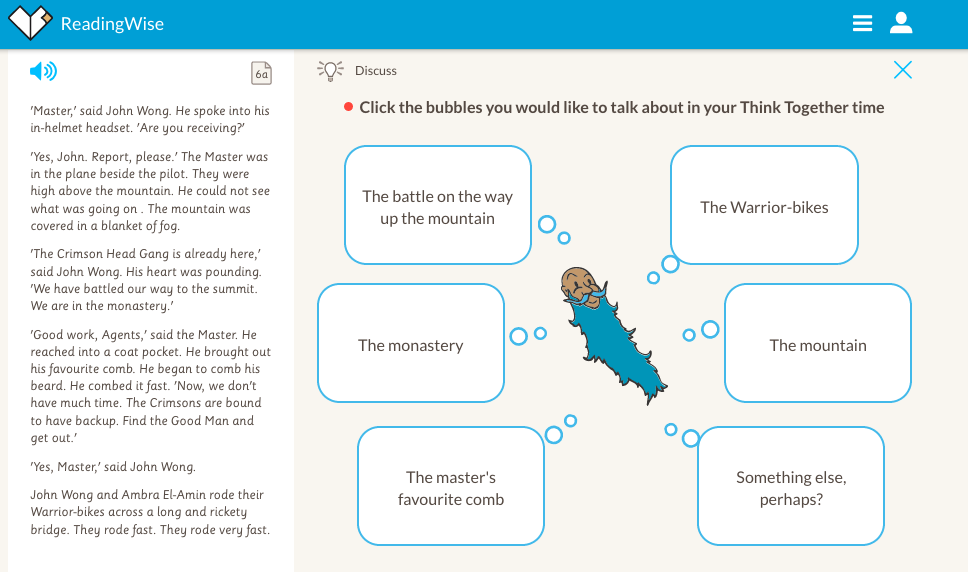 Learners consider which areas of the chapter they'd like to discuss.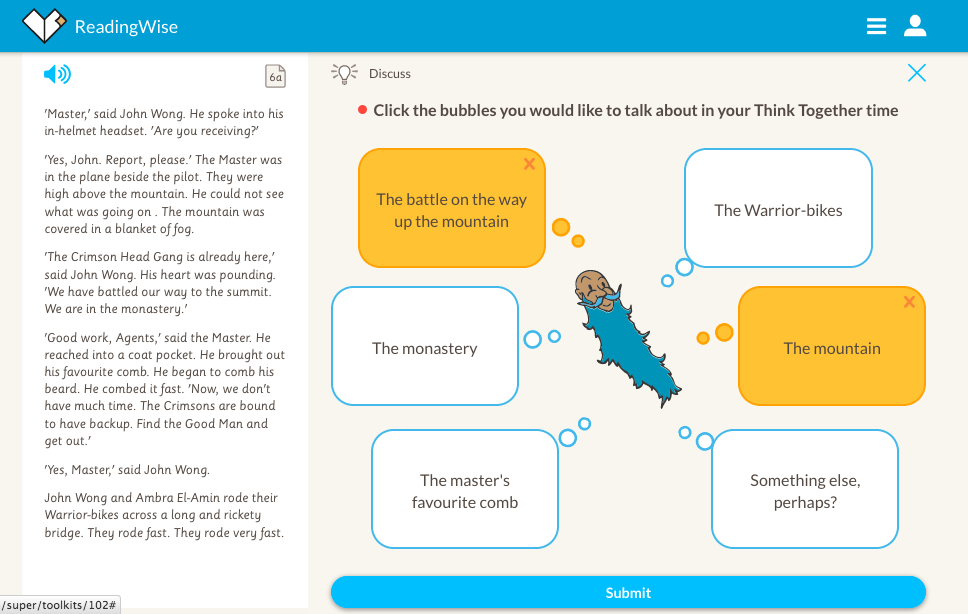 The selected options, ready to submit.
Although every session, regardless of mini-skill, has a discussion component (called 'think together'), the Discuss mini-skill is a 'deep-dive' into this activity. Learners select up to six topics to discuss. These topics may not be part of the main narrative of the story, but rather relate to information that we may not know yet, or that are only hinted at. The options help learners to develop inference, to join the dots between themes, events or characters. Discussing them at the end of the session allows them to hear other learners perspectives and so develop their own.
What do you think?
How do you integrate discusssion in your classroom? Do you regularly discuss books you are reading with your group?
If you'd like to discuss using ReadingWise to empower your struggling comprehenders, you might like to arrange a demo with our friendly team. Our demos are quick, informative and fit with your schedule. So far we've reached many thousands of learners and would love to explore working with you!.