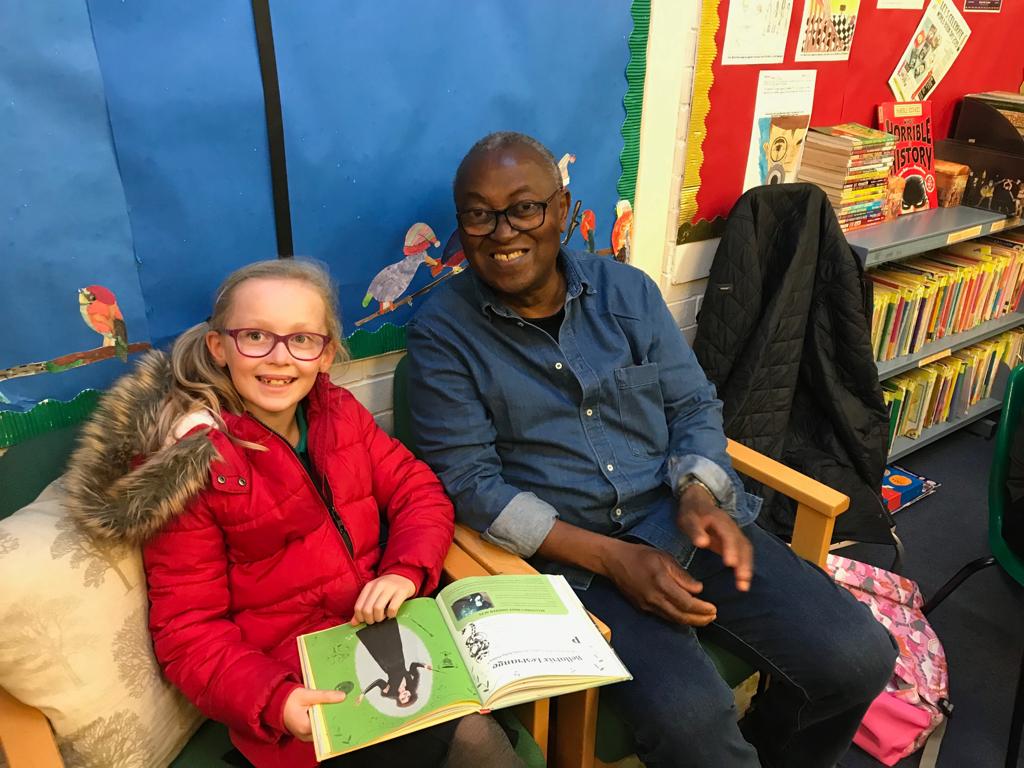 Ava reading at school with her Grandad!
Reading is a Superpower
Superpower (noun): a skill, personal trait, or passion that plays an important role in your life, helps you do good in the world, and makes you feel special, happy, and confident.
There are all sorts of studies into the importance of reading. Not only to help in our studies and careers and life in general, but also in terms of wellbeing. Studies show that reading can reduce stress, create empathy, and help with memory. Many of us use reading as a refuge, as a way to escape. Reading is definitely a superpower.
We thought we'd ask some of ReadingWise's primary school friends how they feel about superpowers and reading. We wanted to find out if they are aware of their own superpowers and also to discover if they see reading as a superpower. We spoke to Grace (7), Ava (9), Pete (11), Eva (11), Dot (11) and Ivor (11).
What kinds of books do our readers like to read most?
We started by finding out what kind of books our young readers enjoy reading. We discovered that both Ava and Eva like books that give an insight into a life different to their own. Ava enjoys the fantasy, adventure and fun in Lightning Girl by Alesha Dixon and The Worst Witch by Jill Murphy. She loves that the characters are always having new adventures.
"Stories that aren't actually to do with real life like Lightening Girl and Worst Witch because it's not actually real and it sounds real and they are really good." - Ava
At Primary school Eva liked books like the Roman Mysteries by Caroline Lawrence, stories that give an insight into Roman life. She particularly enjoyed The Mysteries of Vesuvius. Eva found the books exciting, with cliffhangers at the end of each chapter inviting her to keep reading. She also liked learning about the Egyptians, Dinosaurs and Knights of the Round Table in the Magic Treehouse series.
Dot enjoys books about adventures and battles, such as the Harry Potter books by J.K. Rowling and The Golden Compass by Philip Pullman. Recently she and her friends have been reading books such as Goth Girl and the Sinister Symphony by Chris Riddel. The author visited their school which was a great source of inspiration.
Pete likes reading comic books, loving the action that takes place and the cartoons. While Grace likes books that make her laugh and are fun, such as Daisy and the Trouble With Coconuts by Kes Gray. She also enjoys the Rainbow Magic Fairies series.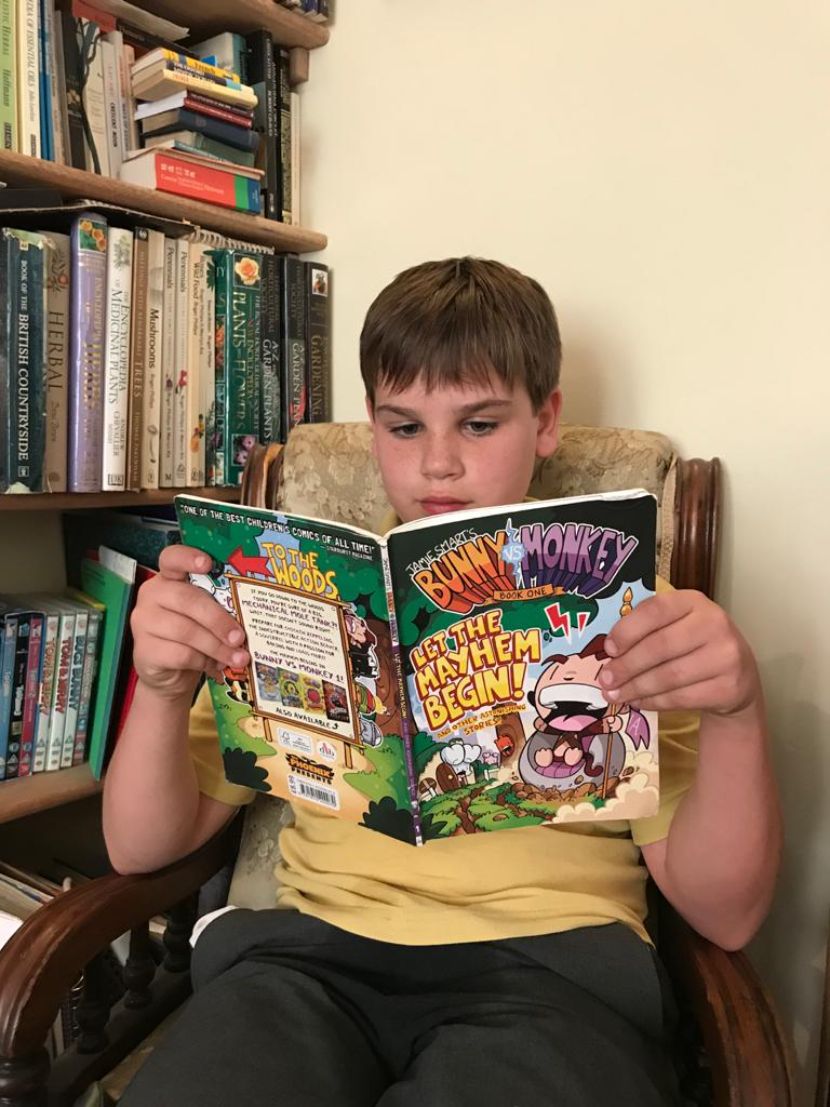 What characters do our readers like, and do any have superpowers?
We were interested to find out about our readers' favourite characters. What is it about them that they like? Do any have superpowers themselves? It was great to hear about a wide range of superpowers, from running fast and flying, to studying hard, being smart and skilled.
A character Ava particularly likes is Mildred Hubble from The Worst Witch, who always tries to do what's right. She was a normal person before she went to a school for witches so she struggles with learning new things; she learns about how to be a Witch but she's also a human. Ava can identify with Mildred, she knows what it's like to struggle with a subject too, in her case maths.
"I like Mildred because she tries to do what's right." - Ava
Asked to think of a character who has superpower Ava picked Ethel from the same book - "'Ethel is a character who studies a lot, is very smart and knows how to do everything."
Similarly Dot admires how smart Hermione from the Harry Potter books is, that's her superpower. Dot also loves Harry's magic powers and the fact that Lyra in The Golden Compass has an innate ability to read the compass. Lyra would do anything to find her dad, she's brave and adventurous. All excellent superpowers! Dot is also fond of Ginny Weasley in the Harry Potter books; although she's not a high profile character Dot appreciates the fact that she's quiet, kind, funny and creative.
Eva particularly liked the character Lupus in the Roman Mysteries, as he is an interesting character with a different life experience to the other characters. She tends to be attracted to characters whose experience and perspective is new to her.
"I like seeing the world through other people's eyes." - Eva
A couple of characters Pete loves reading about in his comic books are a cat and mouse (NOT Tom and Jerry!) called Sam and Jack who like to chase each other around.The mouse, Jack, has a couple of classic superpowers - he can fly and run really fast!
Ivor on the other hand respects Sherlock Holmes' cold critical analysis, and he admires his calmness in the face of adversity.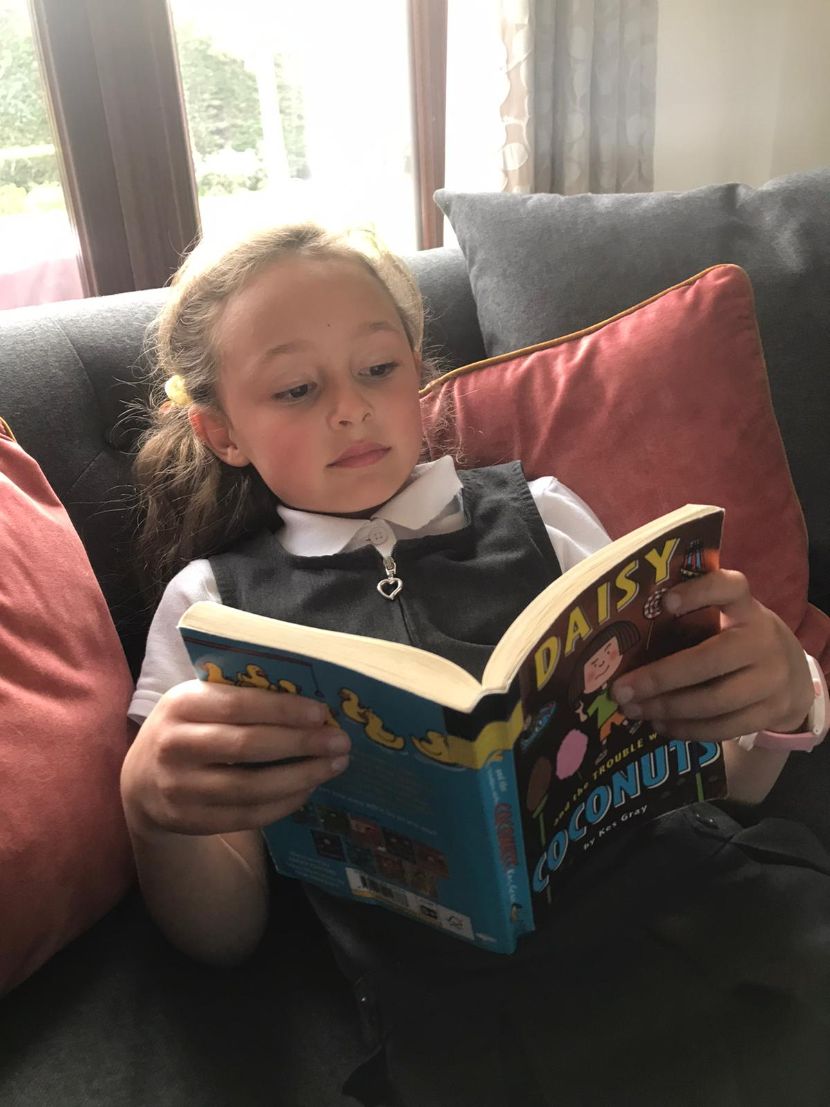 What has reading taught our readers?
We asked our readers if they could tell us about something in particular they have learned or discovered through reading.
Ava has learned something important from The Worst Witch: that she should never give up in maths. She sees that Mildred struggles with things and works hard and gets better - something she can learn from.
"Worst Witch has taught me that I should never give up in maths because Mildred and some others struggle with lessons and I struggle too."- Ava
Dot is similarly motivated by books. When she was younger she loved the Milly Molly Mandy series by Joyce Lankester Brisley. The books inspired Dot to try different things; baking and gardening being just two.
While Pete is currently learning lots of fascinating information and facts from science books - at the moment he's learning loads about meteorites and meteors.
What superpowers do our readers have?
Pete, Eva, Ivor and Grace all told us they have amazing physical superpowers. Pete knows he's good at diving, while Eva is excellent at bowling in cricket. Ivor is great at skateboarding and Grace is outstanding at trampolining and archery!
"My current superpower is diving but I'd like teleporting. It's a superpower because I'm really good at it." - Pete
Eva and Ava told us they have great thinking superpowers. Eva likes debating with friends putting forward controversial ideas. Ava is really good at art and creative writing, and likes helping others in her class who struggle with these skills.
Dot's friends say that her superpower is being like her favourite character Lyra (so that means brave and adventurous!).
What do our readers like most about reading, and how does it make them feel?
We discovered that reading makes all our readers feel good! Eva reads every day, when she wakes up and before bed. She finds it therapeutic; it transports her and makes her feel calm.
Pete loves being on the edge of his seat thinking about what's going to happen next in a story! Reading makes him feel really happy, whether listening to audio books or reading books.
"It just makes me happy and I can't explain why!" - Pete
Ava feels good when she realises reading helps her with her spelling. She likes books that are interesting and characters that she can relate to.
Grace really likes reading because it makes her feel happy learning new things
Reading is a superpower
Finally we found out how our readers feel about reading as a superpower. We wanted to know what superpower reading gives them.
Eva thinks reading gives her the power of knowledge and empathy.
Grace says reading gives her the superpower of being brilliant at spelling and having a good vocabulary.
"I really like reading!" - Grace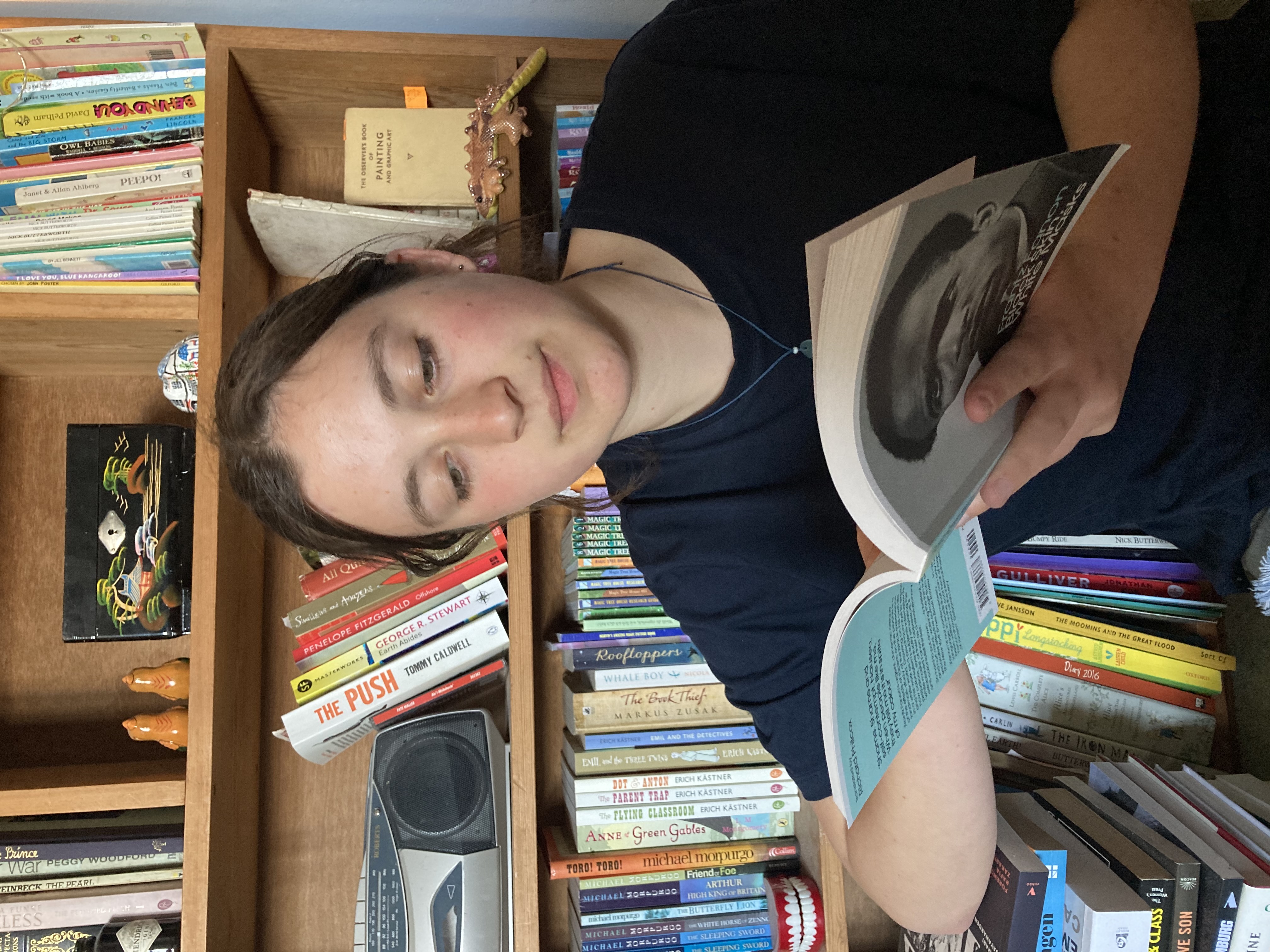 And finally, a very useful superpower. Pete finds he can block out all of the sounds around him when he's reading, and finds that quite comforting!
Why don't you find out what superpowers your students have, and let us know on Twitter @ReadingWise - we'd love to hear from you!
If you'd like to book a demo to find out more about ReadingWise's literacy interventions, you can sign up to a demo here.