A Walk in the Woods by Bill Bryson - Vocabulary
"A Walk in the Woods" is a humorous and insightful travel memoir by Bill Bryson, published in 1998. In this book, Bryson recounts his attempt to hike the Appalachian Trail, one of the longest continuous footpaths in the world, stretching over 2,100 miles from Georgia to Maine.
The book begins with Bryson's decision to hike the trail, despite having no prior experience in long-distance hiking. He is joined on this adventure by his old friend Stephen Katz, a grumbling and out-of-shape companion. The narrative is filled with Bryson's witty observations, self-deprecating humour, and a deep appreciation for the natural world.
As the duo embarks on their journey, they face a series of challenges, from rugged terrain and inclement weather to encounters with wildlife and quirky fellow hikers. Bryson delves into the history, ecology, and culture of the Appalachian Trail, sharing fascinating anecdotes about its origins and the people who have walked it.
Throughout the book, Bryson offers a mix of travelogue, environmental commentary, and personal reflection. He underscores the importance of preserving the trail's natural beauty and highlights the threats it faces from development and pollution.
"A Walk in the Woods" is a delightful exploration of the great outdoors, filled with humour and an infectious enthusiasm for the wilderness. Bryson's storytelling makes readers feel like they are right there with him, trudging through the wilderness, and it inspires an appreciation for the beauty and challenges of the natural world. Bryson's witty and informative narrative makes this book a beloved classic in the genre of travel literature.
Bill Bryson's language in "A Walk in the Woods" plays a pivotal role in shaping the book's comedic tone. He masterfully employs a conversational and self-deprecating style that resonates with readers. Bryson's use of colloquial language and humour-infused descriptions makes the arduous journey through the Appalachian Trail feel relatable and approachable.
His witty asides, humorous anecdotes, and clever wordplay keep the narrative light and engaging. Bryson often pokes fun at his own inexperience and the comical mishaps that he and his hiking companion, Katz, encounter, which endears them to readers.
Furthermore, Bryson's knack for irony and exaggeration adds depth to his humour. He uses hyperbole to emphasize the challenges of the trail, making even the most daunting obstacles entertaining. By blending insightful commentary with laughter-inducing prose, Bryson creates a book that is not only informative but also highly entertaining, ensuring that readers find themselves chuckling at his misadventures while gaining a newfound appreciation for the Appalachian Trail and the great outdoors.
There is no doubt that Bryson's language is rich and varied. We hope our word lists will save you time, and help your students to explore and understand the book in its full glory. Check it out with 60 new words today! You can also access an editable list here.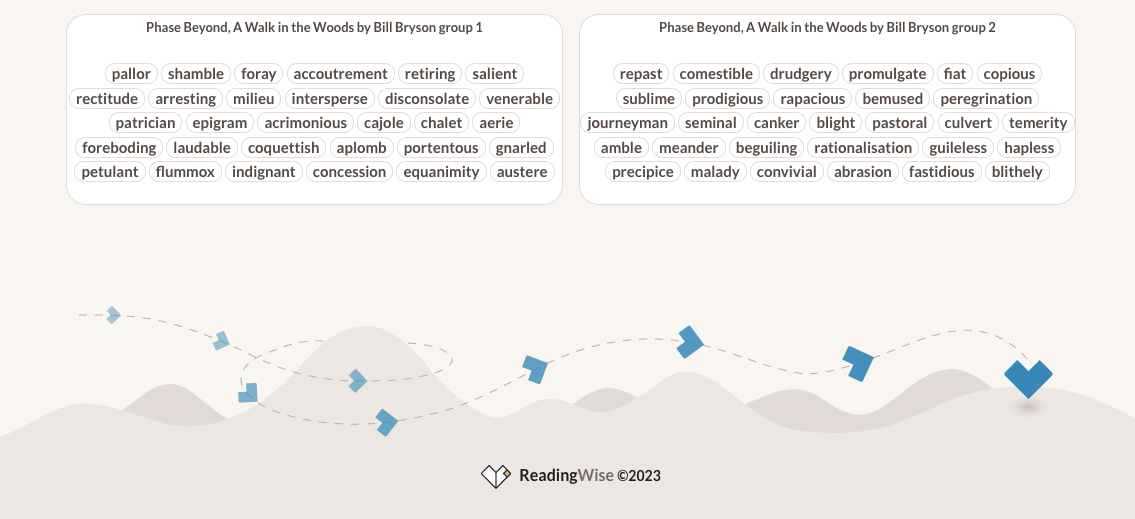 Vocabulary Cards
As well as word lists, we also offer free use of our vocabulary cards, which can be downloaded as a PDF for use in class. Complete a short form and we will email you the cards straight away.
Vocabulary cards include: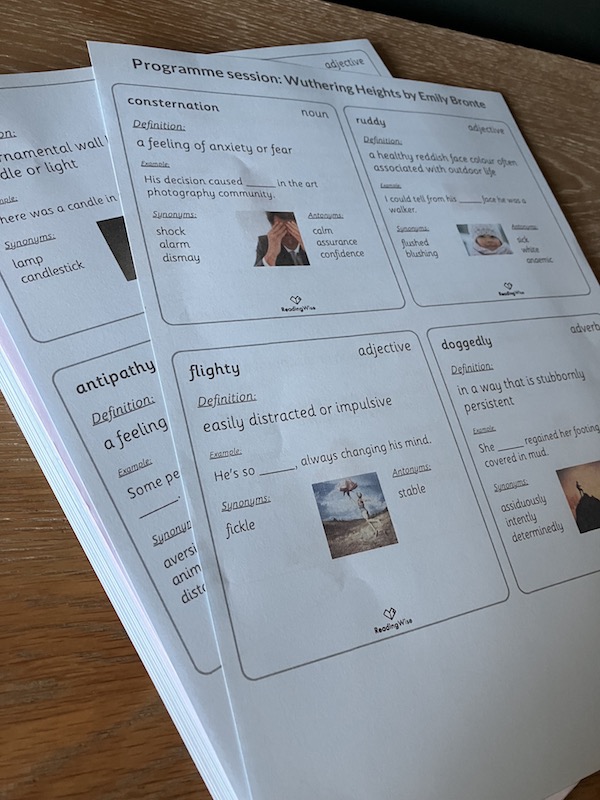 Definition;
Word type;
Synonyms and antonyms;
Example sentence;
Image.
Check out our weekly lists every Wednesday! Click here for last week's curation...
The Vocab Module - How it Works
The Vocab module is simple. It's online. Each learner has their own username and password. You (the teacher) allocate the word list you'd like your class to work on. And away they go!
Mastering words
The programme learns how well your learners understand a word. Once they've mastered it, it goes into their mastered list! Each word has a 'definiton card' that supports their learning. This includes a definiton, an example sentence, synonyms, antonyms and an image. As they become more confident with a word, the definition card becomes more challenging. The image disappears - then the synomyms and antonyms, and finally the example sentence. If the learner makes a mistake, then the scaffolding returns - until they've mastered the word!
Each word has audio support so they are hearing and seeing the word as they learn it. And you are bringing the words to life with your class as you read the book or cover the topic!
Interrupting the forgetting curve
One amazing thing about the Vocab module is that the programme actually revisits words at key intervals. This is based on the science of memory and the famous work of Ebbinghaus. The programme interrupts the tendency to forget new things by overlearning at strategic intervals! This helps the words become firmly lodged in your learners long-term memories!
Short and regular sessions are best!
As a supplementary resource, Vocab is best used alongside your usual classroom activities. You might ask your class to spend 5 or 10 minutes a few times a week, either at home or at school. Some teachers like to use the programme from the front of the classroom too!
Which word list next?
If you are reading an amazing book with your class and you'd like us to create a word list for it, then let us know!