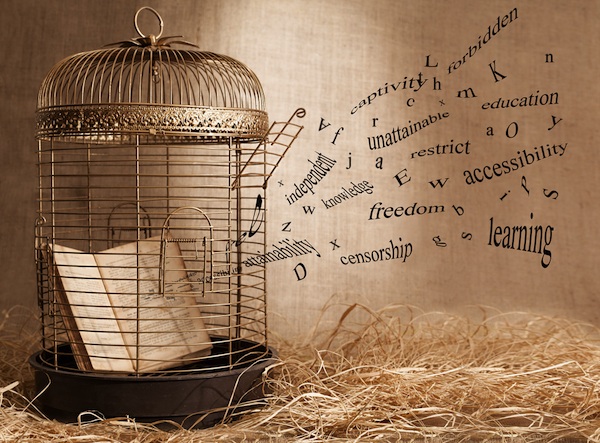 Books have power. Historically and in societies in which freedom of information is neither right nor hope, this power, which objectively understood is simply an efficient means of conveying information by means of the printed symbol, assumes extraordinary properties.
To those in power, a book becomes a tool of oppression, the act of reading either an elite occupation or an act carefully supervised. To the disempowered, the book is magical passport – and not just to the obvious, to the other way, to freedom, but also as a means of transcending the physical self, of escaping, if only for the duration a good read. In those societies in which freedom of information is today enshrined in law, the being-read-book is at once symbol of freedom hard won and everyday guarantor of the right to be a reader.
Small wonder, then, that Prison Service Instruction 30/2013 (PSI 30/2013), the government's new prisoners' Incentives and Earned Privileges (IEPs), which came into effect as of 1st November 2013, and effectively banned private parcels – including books - from being sent to inmates, has been source of a controversy that has seen poet laureate Carol Ann Duffy publically take on Justice Minister Chris Grayling, and centres, in respect of books, on two related debates: one, the relative importance of access to reading material in a prison society in which '48% of prisoners have a reading level at or below Level 1'; and, two, given the importance, whether or not prisoner incentive schemes ought to include books.
So, the new regulations: According to instructions it is not enough that a prisoner wishing to earn in-prison privileges show an 'absence of bad behaviour.' Rather, he or she should show evidence of worth by working towards rehabilitation, behaving well and helping others. There are 4 IEP levels: Basic, Entry, Standard and Enhanced. Privileges are largely non-existent at Basic and Entry levels, while the 6 earnable privileges include:
extra and improved visits
eligibility to earn higher rates of pay
access to in-cell television
the opportunity to wear own clothes
access to private cash
and time out of cell for association.
A largish list of so-called 'additional non-designated key earnable privileges' includes books, which can 'be purchased by prisoners for their own use, through catalogue suppliers.' To have continued the tradition, say the authorities, of private parcels would have been to undermine the system of earned privileges. The loss of a private source of book supply is mitigated, they say, by an in-cell allowance of 12 books from well-stocked prison libraries and by the buying power of prisoner wages.
Cracks in - and arguments against – PSI 30/2013 are legion. Briefly, from the perspective of providing reasonable access to books, of the benefits of reading, and of raising literacy levels in prisons, here's why:
A library system that, by all accounts, is neither as fine nor as nationally consistent as the Justice Minister would have us believe, backed by the relatively impoverished book-buying power of a tiered weekly wage that may, understandably, be spent on items other than books, does not, by any stretch, constitute reasonable access.
If raising levels of literacy are considered important predicators for rehabilitation, restricting access seems counterproductive and shines, therefore, a bright light on a thinking that seems to have lost faith in the societal purpose of temporary incarceration.
Also, what the ethics of a system of reward and punishments that should choose to use books as a means of illustrating the difference between being bad, indifferent, good and very good? Surely, whoever you are, whatever you are, a book in your life is, at worst, necessary, at best, wonderful?
You don't have to be a poet laureate to see PSI 30/2013's inclusion of books-as-incentive as woefully wrongheaded. We all believe – or should believe - in the deep power of books. The emphasis here that Duffy and company place on books (rather than, for example, reading schemes) is pertinent. Of course, it's vital that the 4 in 5 prisoners that cannot complete a job application are given every opportunity to learn how to do so, but a reading scheme is nothing without books. Books are the beautiful and never ending end of learning to read - hear, take in, absorb. They are vehicles for our imagination. They touch every part of us. They tell stories. They create time and space. They are our time-travel machines, our very own portable alephs. They are the pleasure of absolute escape. To deny anyone this is a crime in itself.