Literate Times 3rd edition is now here! Leading on the comprehension debate, this edition includes:



National Literacy Trust - gulf in reading enjoyment between primary and secondary pupils

Inner city success - head teacher Marva Rollins discusses the challenges and successes at Raynham Primary.

Comprehension Mega Skills -how developing struggling comprehenders skills makes an impact

Empower your teaching assistants - CEO of Sutton Trust Dr Lee Elliott Major outlines evidence at London conference. Expert opinion by Rob Webster @MaximisingTAs

EAL New Arrivals - Expert opinion on best practice from Di Leedham @dileedham

NATE on SPAG - Paul Clayton, director of the National Association for the Teaching of English, discusses the current state of play

Delivering literacy impact at scale - how Horfield Primary in Bristol reach over 30 struggling readers effectively
Get your copy now!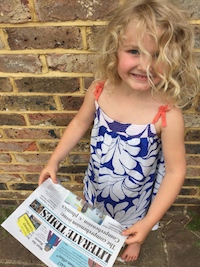 This edition will arrive in your primary school in mid June and we'll be giving Literate Times out at the various events we attend, but if you'd like a copy popped in the post now, email us today with your name, role, school name and address.