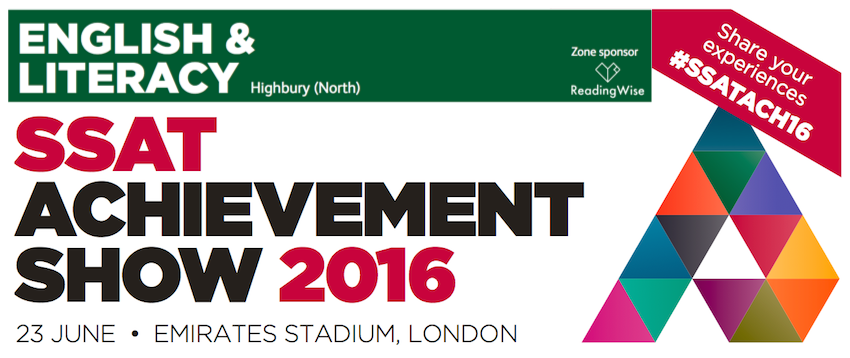 See you at the SSAT Achievement Show 2016?
Team ReadingWise is looking forward to meeting colleagues at the show, learning about the great work going on and showcasing some of our work - like this transition case study from St Ambrose Barlow High School in Salford.

We thought we'd share details of the English and Literacy Zone schedule here on the blog for you. It looks like being an excellent day!


Session 1 - 10.00 - 10.45
Raising achievement
Sir Jonathan North Community College
Kevin Waite (English Team Leader) and Rowena Guzy (Gifted and Talented Coordinator)

Session 2 - 11.15 - 12.00
Securing exceptional outcomes in English
St Edmund's Girls' School
Nicola Burke (Academic Leader in English) and Charlotte Chapple (Assistant Academic Leader in English)


Session 3 - 12.10 - 12.55
LUNCH!


Session 4 - 13.00 - 13.45
An English curriculum to stretch, challenge and inspire years 7-13
Tiffin Girls' School
Charis Hunn-Smith (Head of English)


Session 5 - 13.55 - 14.40
Using EAL learners to build academic language and help ALL students
Jack Hunt School
Kate Simpson-Holley (Deputy Headteacher), Grace Kennedy and Richard Kaseta (students)


Session 6 - 14.45 - 15.30
Communication in the classroom
Parliament Hill School
Sarah Creasey (Deputy Headteacher), Lisa Hutchinson (Careers Coordinator and White British Achievement Project Lead) and Marie Underwood (Literacy Coordinator)