I really wasn't sure what to expect from a visit to the ResearchEd 2015, the annual conference organised by teacher, TES blogger and the government's new 'school behaviour expert' Tom Bennett who kicked off a storm and inspired a blog by me last week, when he was quoted by The Sunday Times as saying 'schools should ban tablets' (or did he?).
Tom was asked to start ResearchEd four years ago at the request of the Government as he has a passion no one in their right mind could possibly disagree with, namely "debunking bad research in education" and from a few of the talks I saw and 'research' I've seen, it's not before time someone took this crusade on.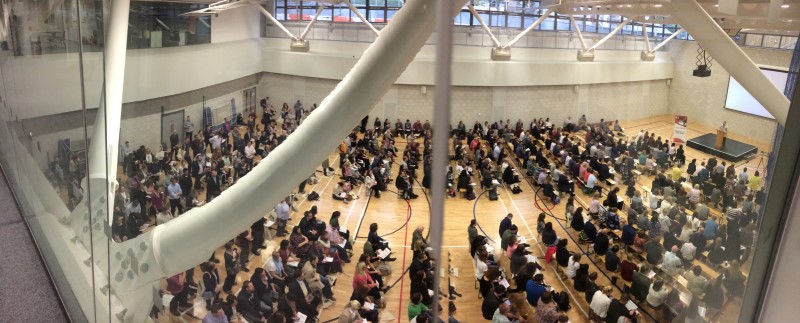 And it appears he has a massive amount of support, from government ministers and the sector's leading trade press to grassroots teachers across the land, if not the world, with events run or planned as far afield as Amsterdam, New York and Australia. Indeed, they are looking to mimic the TED model of 'ideas worth sharing' but with "less showbiz and more critical thinking" including the TED-X format, by allowing groups of teachers to run ResearchEd (X?) events under licence.
Which side are you on?
Research in education is a hot and fiercely debated subject. At one extreme, EdTech Author and Commentator Graham Martin-Brown of Learning Reimagined blogged that "Evidence based practice is a slogan whose rhetorical effect is to discredit opposition. After all, who would argue that practice should not be based on evidence - so there is an implication built into the phrase 'evidence-based practice' that opposition to it can only be irrational." Conspiracy theory anybody?
And a stake was very firmly hammered in the ground at the other end of the scale by the raison d'etre of the event itself, reinforced on the front page of the special issue of TES which screamed 'why learning styles should go out of fashion' and 'beware fixed ideas about growth mindsets', which dovetailed nicely with the opening keynote speech by Schools' Minister, Nick Gibb and possibly set a talk on mindsets by Clare Waghorn up for a fall.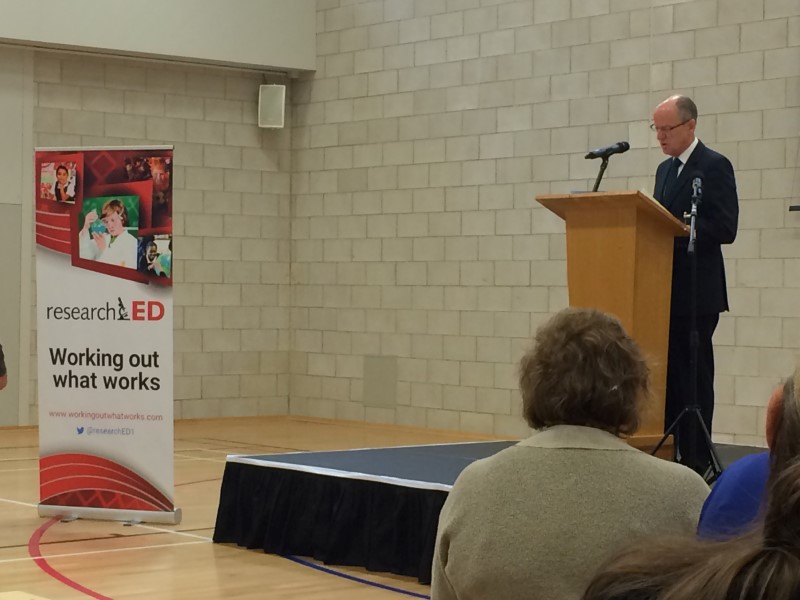 It really was a job to decide what to sit in on, with nearly 80 different talks across 11 locations around what must simply be one of the best conference venues I've visited for a while, The South Hampstead High School.
Here's a snap shot of the few nuggets I stumbled across in my search for sessions around literacy and the use of technology in education.
You a teacher? The government is firmly behind you.
In his scripted talk (downloadable here), entitled "There has never been a better time to be a teacher, and to challenge the current orthodoxies within British schools", Nick Gibb set out the government's view on changes required in teaching here in the UK to help it acquire the status of being a "mature profession" defined by teacher-led, front of classroom instruction and away from the "now legendary pseudo-science of Brain Gym" and other "21st-century skills movement, hollow shells of their former selves."
He summarised, saying, "Repetitive testing works. If your school still practices Brain Gym, then God help you."
He expressed his frustration at BBC documentary 'Are Our Kids Tough Enough? Chinese School' and "the reaction of the school senior leadership to Chinese teaching methods. The evidence which shows the effectiveness of Chinese teaching methods is unequivocal: according to the PISA tests". He was surprised that the headteacher was not prepared to learn from the Chinese methods, saying "by the second episode, the headteacher criticised Chinese teaching as 'tedious' and hoped the Chinese teachers in his school would 'fail, and fail by a margin', as to him they represented the 'dark ages' of teaching."
The place(s) for tech in education
After all the pre-event excitement kicked off by Tom Bennett's article in the Sunday Times, I was really looking forward to the talk by Oliver Quinlan on the findings from two years of digital learning research by the digital learning team at the charity Nesta.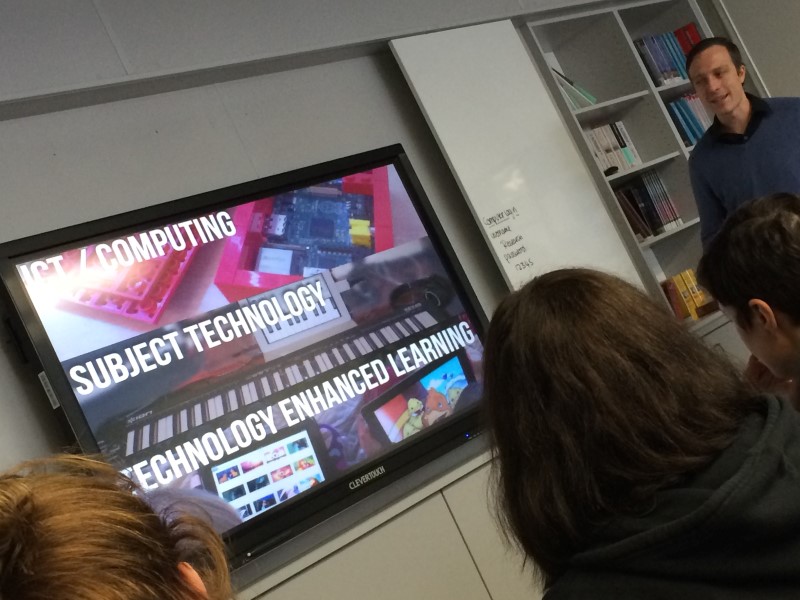 The first thing he did was make very clear that not only is there a place for technology in education, but that it has application in ICT/Computing, to support subjects as in electronic music, data processing in science, etc and in the area of technology enhanced learning – probably the most contentious area.
In an interesting review of all research into technology enhanced learning he revealed a clear and complete lack of research into the use of technology in areas around learning through marking, exploring and enquiry.
Sadly we're going to have to come back for the findings of a Nesta report into the impact of technology in a 1:1 learning context. And let's hope it stands up to ResearchEd's scrutiny.
Stephen Lockyer's talk set out to look at how much of established best practice in primary education isn't backed up by research, showing what he called the 'Boomerang Research cycle,' where new thinking and practice emerges to gain acceptance and widespread use after initial research, often to be debunked and ultimately discredited as the boomerang goes back to the start.
He provided one of the highlight quotes of the day when he said that the use of Educational technology was questionable in some areas but that it was critical to remember that "Magical learning dust doesn't fall out of the bottom of iPads" – their effectiveness is down to training, support and application.
Literacy best practice
But I was looking for literacy talks and they were few and far between.
I caught a thoroughly inspirational talk 'The Building Blocks of Literacy' by Secondary English teacher at Michaela Community School in Brent, Katie Ashford. She embarked on her teaching career on the TeachFirst programme and has authored two books and written for the TES.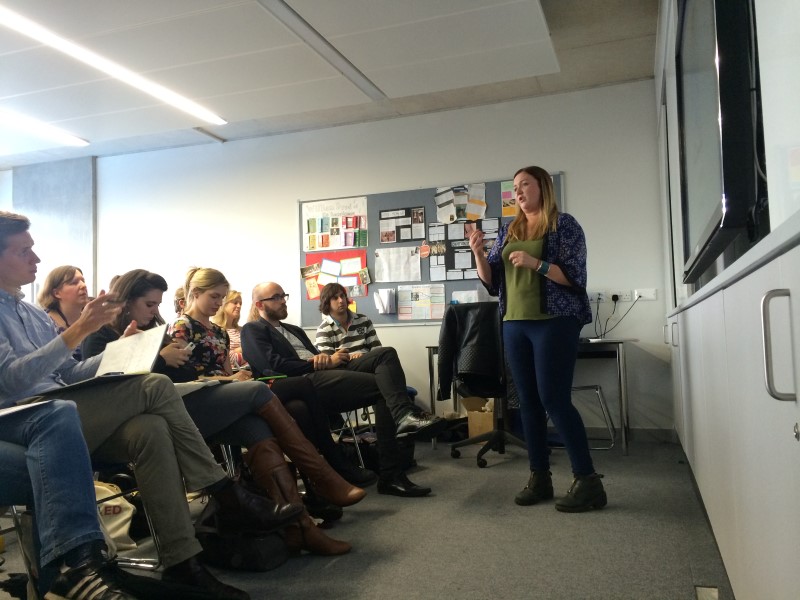 Katie described how her school have created a culture of literacy and embedded reading into every subject. She made a great point that anything a teacher can say, standing at the front of the class, makes great reading practice material as it can be read out by a pupil (but don't tell Nick Gibb ;-)
Nick Gibb will however have been pleased to hear Katie say that "Comprehension in literacy education is underpinned by knowledge and that you can't just teach it"
In search of Literacy research
The only session in the day that really addressed research around literacy and literacy interventions was an excellent and insightful talk by Tom Sherrington head teacher at Highbury Grove School and blogger with 31k followers under the handle: @headguruteacher

He started by saying: "I'm a headteacher. I'm not an expert on literacy, so here's how I found out more" and he described his journey looking for a literacy intervention and how a Google search for 'Secondary literacy intervention strategies UK' led him to a 2012 DFE Literacy and Numeracy strategies document listing over 20 interventions all seemingly backed up by research.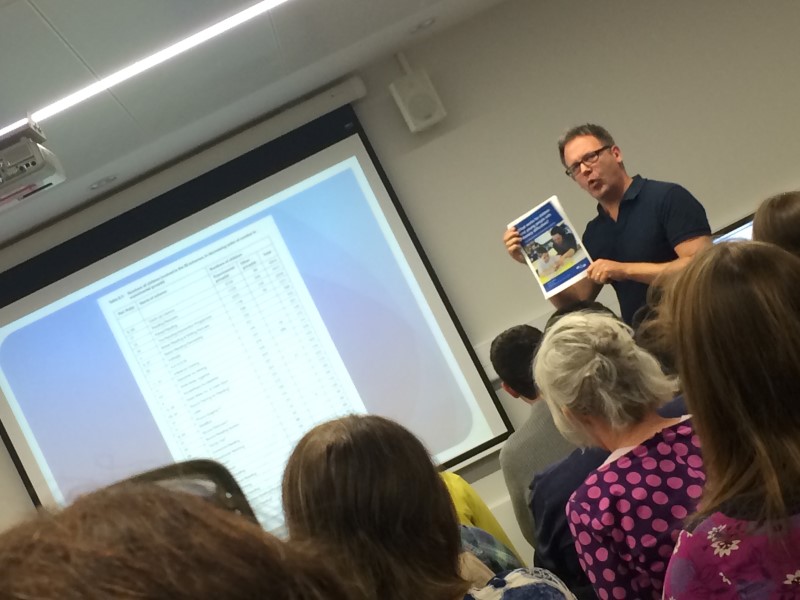 One particularly caught his eye from a school in Cornwall and he described how via looking at research carried out by Greg Brooks, a widely acknowledged expert in this field, the research had actually been the work of a PhD student in 1994 with a sample of only 24 learners!
As Tom said "So…. it turns out that the top ranked literacy intervention in the DFE list is a very small study that is over 20 years old on the scale that any teacher could conduct in their own classroom; the sort of scale that is often dismissed as action research that doesn't really count!" exactly the sort of 'bad research' that ResearchEd are on a mission to debunk and debunking it, Tom was.
He went on to say "Teachers beware! We can't simply trust DFE publications… they're too lazy to do the work needed to inform our decision."
Tom then described how, after reading a report by the Education Endowment Foundation into Accelerated Reader he tried and adopted it but found the 1:1 demands on his TA's and ICT requirements onerous and said they are stopping it and are now trying another 1:1 intervention Thinking Reading which allows their TAs to be deployed more flexibly, intensely for some learners and less so for others.
He finishes off his notes from the talk by saying "for too long, we've been guessing our way through and we need to be much more systematic in the way we evaluate initiatives like this – both at school level and nationally".
Last but not least
I'd imagine that you're reading this after browsing our website and will know how our literacy intervention differs for the approaches reviewed by Tom Sherrington above.
Firstly, ReadingWise English have been evidencing the impact of ReadingWise English from the outset.
The ReadingWise English programme trains teachers, TAs and LSAs to work with groups of 10 learners at a time, using technology to deliver personalised lesson plans for each learner, and to empower the teaching team to make informed decisions and therefore to focus resources most effectively.
We work with primary and secondary schools across the country, including Special Schools and PRUs. Trials to date consistently demonstrate an average reading-age impact of over 9 months in less than 20 hours of intervention at 20 minutes a day. We are currently designing our third trial, a large scale RCT, and invite expressions of interest from schools interested in taking part.
Take a look at this film of Calmore Junior School in Southampton who had tried other interventions that simply hadn't worked. You'll see the head teacher describe how they are seeing reading age improvements of as much as a year and nine months in some pupils.