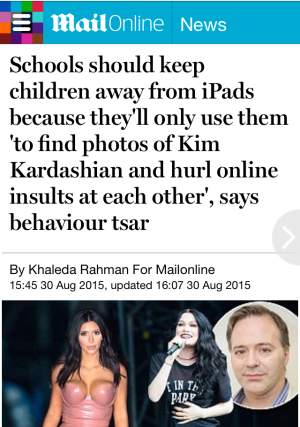 A flurry of social media activity kicked off this new school year week after a provocative headline in the Sunday papers:
'Take tablets from schools, says tsar' – screamed The Sunday Times following an interview with Tom Bennett, teacher, TES blogger and chair of a working party looking into low-level disruption and ITT reform, a title that is often, to his amusement, abbreviated to 'The Government's Behaviour Tsar'.
The Daily Mail added the following headline to the mix: 'Schools should keep children away from iPads' and added some of the sort of spice to it all that sells papers and banner ads by digging into his pre-teaching background.
Setting the record straight
In the, often heated, exchanges that followed on Twitter, Tom denied this black and white view of technology in education and wrote this blog post to clarify what he really does think about technology. On the whole his views seem thoroughly sensible and in-line with what anyone who knows anything about technology would think, teacher, parent or indeed child, if telling the truth.
As anyone knows, it's what you do with a tool that makes the difference not the tool itself. Jamie, our CEO, recounted to me how the distribution of digital whiteboards in schools didn't instantly deliver the promised uplift in achievement, not least as teachers weren't trained to use them properly.
And that's what struck me here. Anyone who knows how to use and manage tablets and technology wouldn't have taken these newspapers comments seriously. But how many people really do know how to use and manage this technology?
Screens are the banes of many people's lives at school and at home, but they can and must be managed. Many schools use network management systems to control what pupils can see/do and vary this depending on the task in hand.
We have the technology.
Some literally just give children tablets and wonder why they get distracted. Yet we have the tools to help parents and children manage their screen time.
How many teachers or parents know about the simple 'Guided Access' feature on every iPad that lets you lock an iPad into a specific application so children can't go off to a gaming app when your back is turned. How many parents use the excellent Screentime app on Android that gives a fine degree of control over the time and access children have to their smartphones and tablets.
As for children being up all night when lights are out browsing the web, how many parents pull the plug on their internet router in desperation and shut the whole house down, when they could simply tweak the settings on their BT Home Hub router to disable access for specific devices like their child's smartphone or tablet each day after bedtime?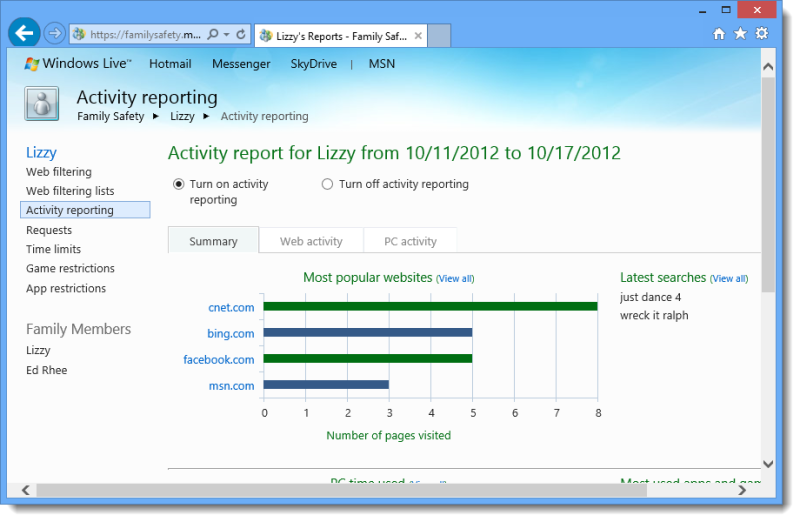 How many use the parental control features built into Microsoft's Windows 8 to ration time and control access on their children's computers at home, and to get a weekly report of sites visited and time spent?
It's not what you use, it's the way that you use it.
As Tom points out in his blog reply setting the record straight, technology does have its place in education, but it's how we use and manage it that matters.

One reason that ReadingWise can make such a difference to struggling readers is down to the experience, engagement and enjoyment of learning to read on a screen device. Together with upfront training for TAs, and the tool to support 10 struggling readers at a time, how can this not be an advantage?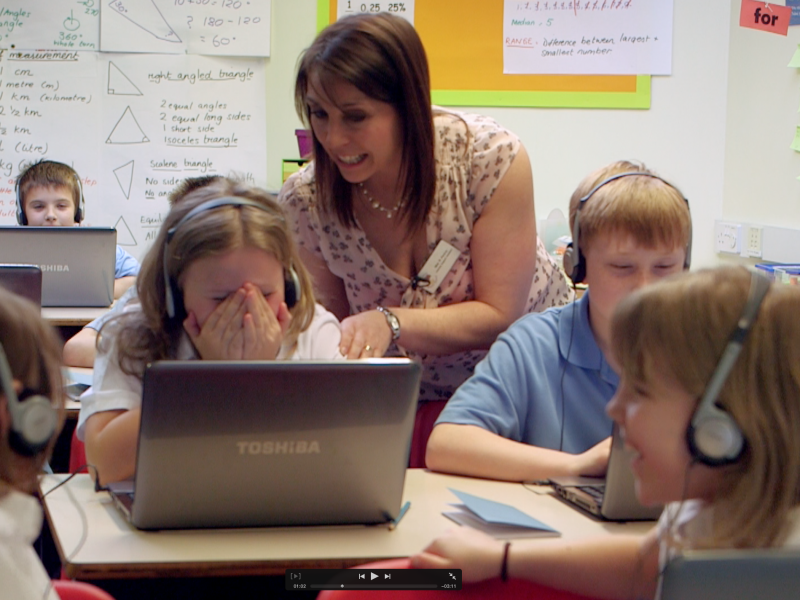 This short film shows a TA at Calmore Junior school in Southampton running a literacy intervention for a group of learners, some of whom they say have seen increases in average reading age of up to a year and nine months after just a few weeks (independent research has shown 9.7 months on average after just 20 hours)
Anyone who says there is no place for technology in education needs to look at this and realise it's about application, training and management.

And that the impact can be both measurable and explosive.