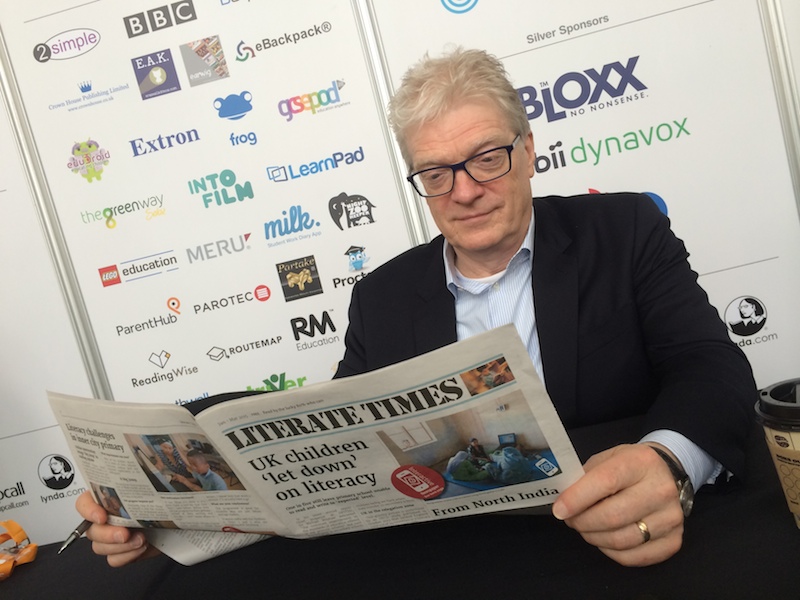 If money talks, Goliath may prove the myth wrong. If truth prevails maybe David will pull through.
I'm just in from one of the worst attended yet most inspiring trade shows I've ever attended, but then given the calibre of world-class speakers and the ticket price, maybe it was actually a conference in sheep's clothing that didn't know what it was.
Like many others, ReadingWise were convinced to exhibit at the Digital Education Show in London's old school art deco Olympia that, as temperatures outside hit 35 degrees, fortunately now has new school air con and, this week, educational thinkers to match.
Enter a David, in Goliath's clothing
The opening keynote was by Sir Ken Robinson whose work, as a concerned dad, I have drawn much inspiration from. Despite claiming to live in LA, he told me he'd not been home for 5 weeks, being on a tour to launch his new book 'Creative Schools - Revolutionizing Education from the Ground Up'. The book is a long awaited follow up to his hugely successful No. 1 TED talk with examples of 'how real people learn and great schools actually work'.

One of Robinson's biggest gripes is the way that educational reforms around the world are being 'driven by political and commercial interests,' specifically citing the multi-billion dollar testing and assessment industry. In his talk he referenced companies like Pearson, adding that he knew and worked with them in the way friends of a drunk who headbutted you the night before might say, "But he's a great bloke when he's sober!" (Yes, I speak from experience!)
Despite the fact that he's one of the world's most in demand speakers in any category across education and business and the fact his TED talk has had over 300m views, Robinson's work has come in for some heavy, very negative and frankly occasional puerile reactions from some quarters. Suddenly this keynoting Goliath could so easily be a quivering David in the shadow of Big Education Inc.
"Starting at the end. And it's not good news"
So started the keynote for Day two from Professor Sugata Mitra, another top TED talker, but most significantly winner of a $1m prize to help develop and roll out his 'School in the Cloud' concept backed up by Skype 'Grannies' - do take a minute now to watch the trailer for the upcoming feature film/doc here . In the Mitra model, the lesson content comes from the web, the children self organise and all that is required are a few seniors to keep everyone in check.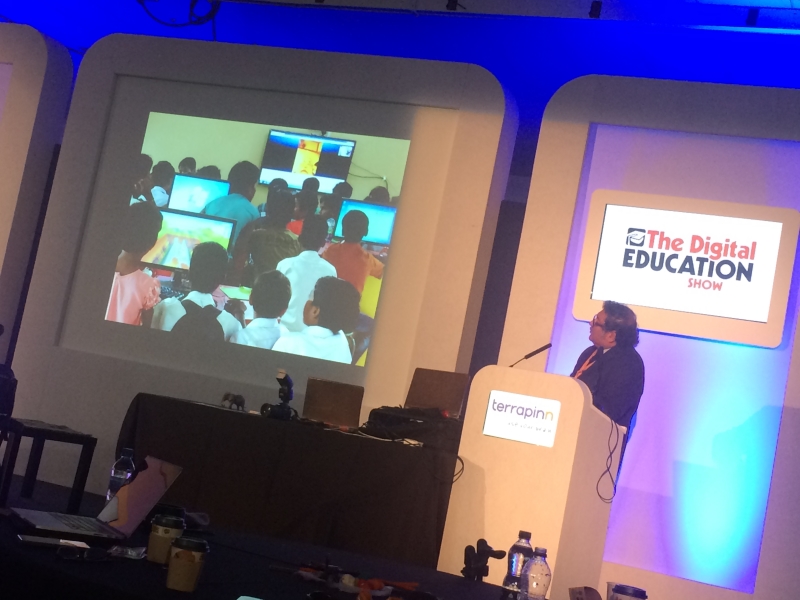 This image shows a 'class' of children in India being addresed by their 'teacher', a granny in Australia via Skype.

Sound too good to be true. Maybe, but like Robinson's work the results are there to back it up. Mitra showed chart after chart showing how self organised children in developing countries outperformed older developed-world children. How 12 year old Tamil speaking children were doing year 1 level university biochemistry.
More to the point he highlighted the futility of some typical GCSE questions along the lines of: 'Which term is used to describe the USA in the twenties? Roaring, raving or raging?' As he said, "Will knowing this REALLY change your life, or just keep you out of university if you don't? And couldn't you just look it up on Google anyway?"
Again to some, Mitra is a global progressive Goliath, but as long as he stays in academia in Newcastle and airport lounges in developing countries he'll be a David adding very little to the value of UK PLC as long as headlines in national newspapers continue to set educational policy.
From acorns mighty David's grow
Heavy hitter TED talkers and other global educational consultants like Richard Gerver and Chairman Dan Haesler aside, many of the other talks were given by teachers in varying stages of their careers. Some still teaching and adding immense value, like Dawn Hallybone who, with a bunch of children from her primary in East London, gave one of the most impressive demonstrations of how they have created a team of digital leaders.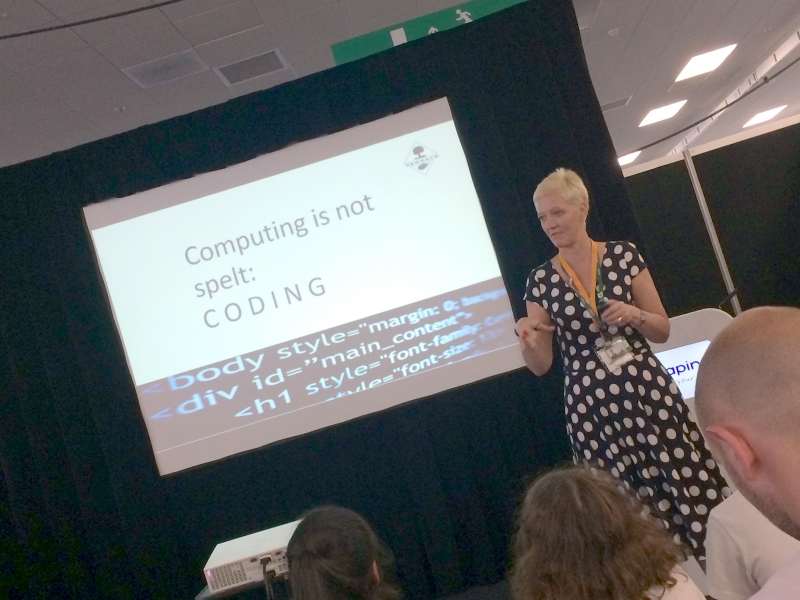 If there was ever a case for human cloning, Dawn is it, such is the passion, professionalism and pastoral care she demonstrated for her children's use of technology in learning, and beyond coding. Way beyond coding.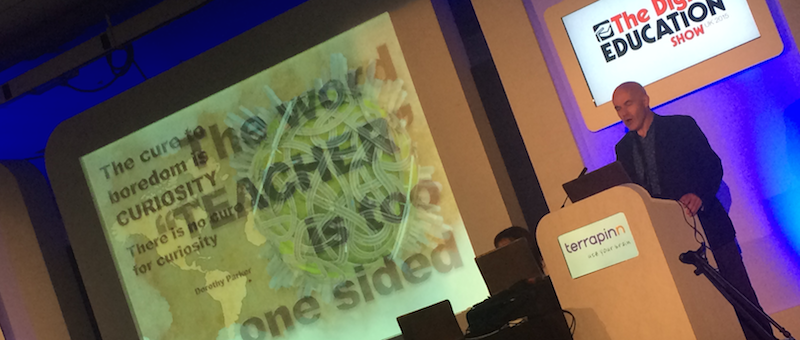 To a very slick and stage-managed presentation, in fact a roller coaster of a talk and demo, by Tim Rylands and Sarah Neild through just about every app, blog and website any teacher could need to cure boredom in classes with a dose of curiosity, because there is no cure for an infectious infection like curiosity.

Another talk by Simon Marsden, Senior Lecturer, University of Portsmouth described a simple strategy for getting schools to use the millions of pounds worth of Raspberry Pi's that he is convinced are languishing in store cupboards.

His tip is to simply give them to technicans to play with as they will be the ones to get them working and inspire students of their poetential. Yes, empowering often overlooked members of the teaching staff, in the way we do with TAs.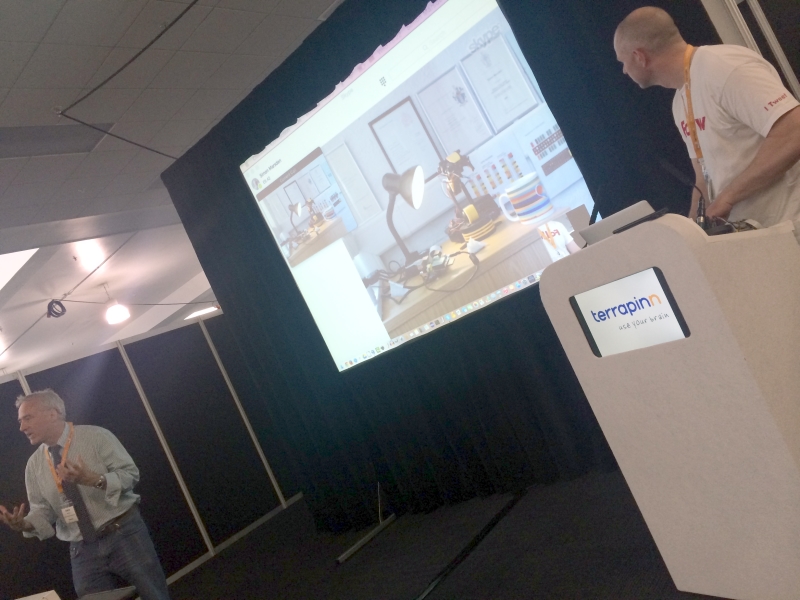 (Simon did a great demonstration of the power of Pi by remote connecting to a robot on his desk back in Portsmouth and getting a celebrity in the audience to come up and control it to make a cup of tea!)


Grounded
But a highlight of today came in a talk from a teacher from a North London secondary who had been brought up in Salvation Army shelters run by his parents who had been posted around the UK, meaning he'd seen the insides of over a dozen different primary and secondary schools and as many dead drunken bodies as a child.
A teacher who four years ago had been made redundant from a leadership position at short notice, with a pregnant wife who then had a son 3 months premature with an agonising period of life/death decisions and family members that needed to be kept informed - a communication challenge that caused him to learn to blog that then presented a possible earning opportunity that became Teacher Toolkit and Ross McGill, the UK's most followed teacher on Twitter.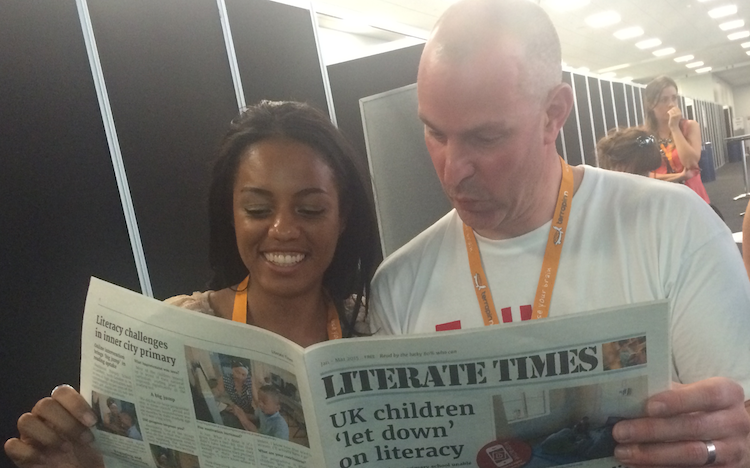 But again, for all his (nearly) 100k twitter followers, published books and killer lesson plans and app, Ross is a mere David. He was telling me, and has blogged about how materials he has develop in his own time are being plagiarised and monetised on third party websites and how there's not only nothing he can do about it, but nothing the owners of these websites will do about it so he continues to scratch a living as a teacher despite his apparent success. It's a clear case of robbing Peter and paying Paul, or pure and simple mugging by Goliath?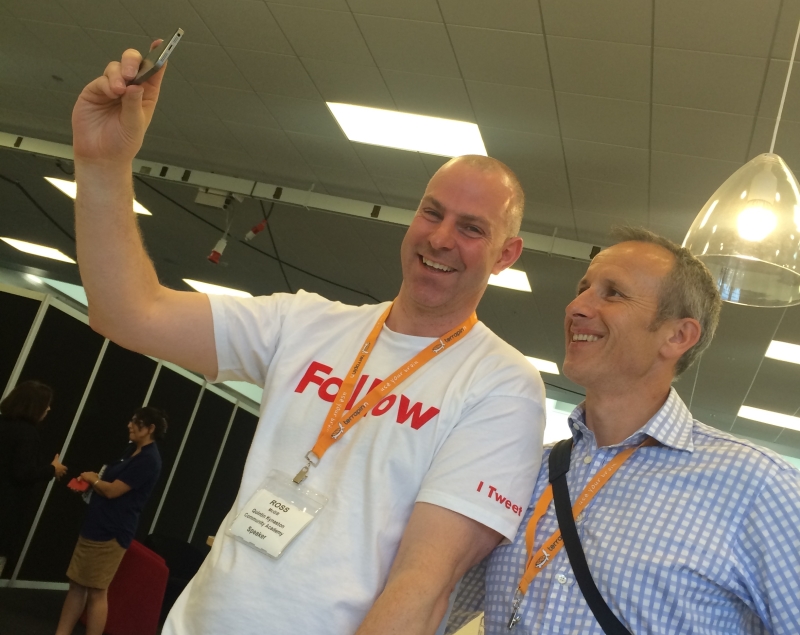 And I wish him luck in his battle, Robinson and Mitra in theirs and ReadingWise in ours as it's only a year since we brought our online literacy intervention to the UK from India to help jump-start reading for the 20% of David's who struggle, compared to the 80% for whom the Goliath's phonics and support networks work, whether teachers or nurturing families. Watch this, for example, and remind yourself why you're a teacher and be very proud, even if sometimes it doesn't feel as if any one else is.
Here's hoping David does win the day, for all our futures.

(If you'd like to receive a copy of the Literate Times, please email info@readingwise.com with your details)